Goodness in the Land of the Living
I remain confident of this: I will see the goodness of the Lord in the land of the living.
 Psalm 27:13
When I was a child, my idea of heaven was my own room, away from my sisters.
As an adult, my heavenly aspirations have shifted a bit. Now that I've lived long enough to have friends and loved ones pass away, I sometimes catch myself thinking about reconnecting with them in heaven one day. That alone is enough to make heaven amazing. Seeing my loved ones again, in a place far more exquisite than even Alaska, is something to look forward to.
But along with heavenly hopes, we're able to enjoy God's goodness while still on earth. The psalmist wrote that he was "confident" of this.
Sweet Freedom in Action
Don't be content to wait for heavenly glories. Instead, strengthen your- self in prayer and Bible reading and blessing others. Expect to see God's goodness right where you are, even today.
---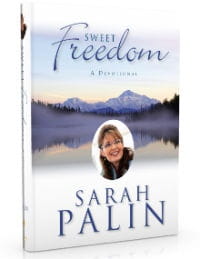 In Sweet Freedom, Sarah Palin invites you to draw strength and inspiration from 260 meditations based on guiding Biblical verses. You are not alone in your doubts and anxieties—we all bear the burdens of everyday stresses, and for most of us, our concerns spread beyond our selves to our families, communities, and country. But Palin shows that with abiding faith, and by opening ourselves to the truths that have saved mankind for generations, we can thrive—and experience true freedom.