A Diver's Wisdom
Olympic diver Steele Johnson, after receiving his first ever Olympic silver medal, provided some profound insight for all of us.
Johnson proclaimed, "The fact that I was going into this event knowing that my identity is rooted in Christ and not what the result of this competition is, just gave me peace ... and it let me enjoy the contest."
Colossians 3:15 teaches, "Let the peace of Christ rule in your hearts, to which indeed you were called in one body; and be thankful."
In business, it is easy for our identity to become wrapped up in our work or our successes, but our true identity should be in Jesus Christ. When we embrace that truth, the peace of Christ will reside within us, and provide a more joyful experience.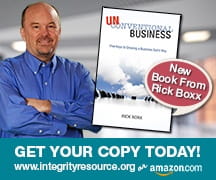 Learn more about Rick Boxx and Integrity Resource Center