When You said, "Seek My face, my heart said to You, "Your face, LORD, I will seek." (Psalm 27:8)
The following suggestions will aid you in that quiet place of communion with God. Wait on the Lord. Five minutes in quiet waiting upon God will yield far more than 30 hurried minutes. Read the Word and then meditate on it. As you read, ask God what He's saying to you. Record your thoughts. Write down what the Lord shows you. Pray to God. Let your meditation turn into prayer. Share with someone about what you've learned. Obey the Lord. Put into action what the Lord has taught you.
---
These are stories Jesus wants you to hear!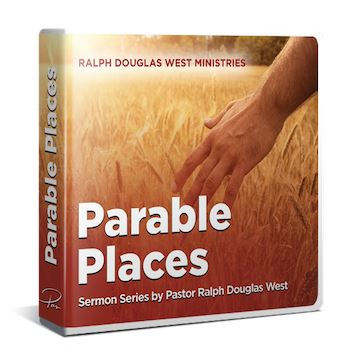 If you've ever wondered if God is really interested in you, it's time you explored Pas' 6-message series, Parable Places.
Let Pastor West take you to some special venues where you can experience Jesus' direction and life-changing love through the stories He shared. You'll be inspired to see how Christ never hurries past the needs of those He loves – and that includes you!
This 6-message series is our way of saying thanks for your gift below to share the Gospel and help more people grow in their faith.
Be encouraged – and thank you for encouraging others through your support!