"And whosoever doth not bear his cross, and come after me, cannot be my disciple." (Luke 14:27 KJV)
The disciples, no doubt, had seen a man take up his cross, and they knew what it meant. It was a one-way journey from which he would never come back. Taking up the cross means the utmost in self-denial. Dietrich Bonhoeffer reminds us that when Jesus Christ calls us to follow Him, He bids us to come and die. In the final analysis, bearing the cross means kneeling in Gethsemane and saying an eternal yes to all the will of God for us.
---
God will finish the good work He's begun in you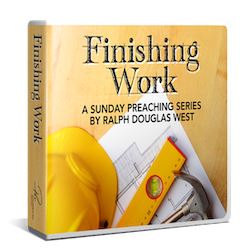 When life knocks you down, you can feel that God is a long way away.
But be encouraged – because He's right there, working in you and for you, even when you don't feel Him.
Finishing Work is a new series from Pas that takes you through the Psalms to show you that God always keeps His promises – especially His promise to complete the good work He's begun in you. And we'd love to send you a copy as our thank you for your gift today.
So request Finishing Work when you give below to help others understand that truth and hold onto God's promises too. Be encouraged!