You are witnesses, and so is God, of how holy, righteous and blameless we were among you who believed. (1 Thessalonians 2:10 NIV)
In the Concord Baptist Church of Christ of Christ in Brooklyn, New York, a shadow box hung on the wall in the parlor contains a scrap of carpet worn down to the mat, apparently from the weight of Dr. Gardner C. Taylor's preaching for more than four decades. That piece of living ministry bears an unforgettable plaque called "The Pastor's Footprints." What kind of footprints will you leave for the next generation to stop and measure your ministry by?
---
In every day, in every way… be encouraged!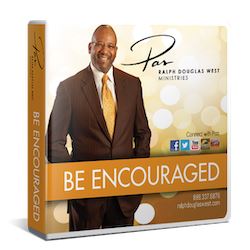 Sometimes life is a struggle. But when you know that the God of the universe has got your back, you can get through anything.
That's why we want to send you Pas' new 4-part series Be Encouraged when you give below to help share that peace and strength with others.
Get your copy today and walk through the story of Jesus' incredible love for you as told in Pas' signature style. We pray it encourages your heart and enriches your spirit!
And thank you for giving generously to encourage others in God's love.