December 25
Christmas Day
With Childlike Awe
It really helps to be a kid at Christmastime, doesn't it? You don't have to nag or persuade kids to be pumped about Christmas. In fact, if anything, you have to rein them in a little bit. When you're a grown-up, getting excited about anything gets harder year after year, doesn't it? Each year we get a little more cynical, a little more blasé. Dare I say it—sometimes even the Christmas message doesn't seem quite so fresh and stirring as it used to be.
Let's not let Satan, the ultimate Grinch, steal our joy. I'll tell you what—let's listen to the Christmas story this year as though we are small children, hearing it for the first time. Let's let the outrageousness and beauty and love of that holy night give us the shivers all over again: "Do not be afraid. I bring you good news of great joy that will be for all the people. Today in the town of David a Savior has been born to you; he is Christ the Lord" (Luke 2:10,11).
Kids love Christmas because they figure they are going to get something they like. Kids love Christmas because they feel important and love to be spoiled by adults who love them. Think for just a minute of what Jesus came to give you—forgiveness for your sins, love to drown out the hate, the supreme honor of being called a child of God, and immortality to lift you out of your grave.
All this was wrapped in humble strips of cloth. Amazing!
---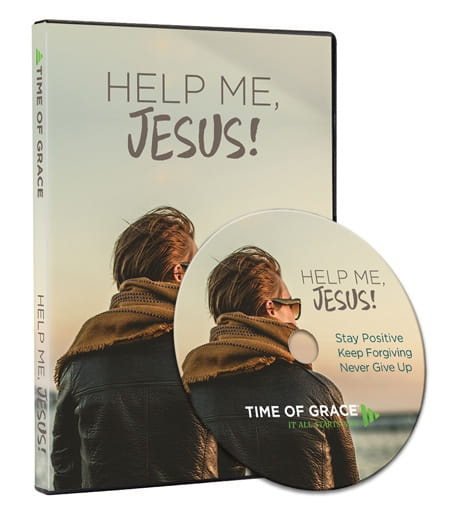 Help Meet the Challenge Grant!
A group of generous friends has stepped forward with a $350,000 Challenge Grant. This means any gift you give to Time of Grace this month will be worth twice as much to share the timeless truths of God's Word with others!
This three-part DVD focuses on looking to God when you're struggling with issues like forgiving others and persevering through trials. And the prayer book helps you put your struggles and concerns into words—and turn them into prayers to God.
The Help Me, Jesus! set is our thank-you for your donation to help us continue telling others of the forgiveness they have through Jesus. Request your copy today!
For more from Time of Grace visit them at TimeofGrace.org or visit their OnePlace.com and LightSource.com pages!