Sneak Previews [Part 1]
Are you ready for some good news?
Your current travails and longings for a better day must not erode your confidence in the goodness of God; they must increase it!
Today's Text: "For I consider that the sufferings of this present time are not worth comparing with the glory that is to be revealed to us. For the creation waits with eager longing for the revealing of the sons of God. For the creation was subjected to futility, not willingly, but because of him who subjected it, in hope" (Romans 8:18–20, ESV)
The travails of this earthly life are not evidence of our demise. Instead, when we groan longingly, it is evidence that something glorious is ahead. The woman who winces with labor pains may suffer, but not as one with no hope. Instead, the pangs of labor foreshadow the miracle of childbirth. In other words, when the woman is in her greatest pain, she is, at the same time, most hopeful of the wonder on its way.
Thus, Paul harnesses the childbirth imagery in Romans 8 as he builds toward the greatest crescendo of hope in all his writing: nothing "will be able to separate us from the love of God…."
Many years ago, my wife and I served as counselors for third graders at a Christian camp in the mountains. Sometimes on the first night, but more commonly the second night, it would happen. In the middle of the night, I'd hear a whimper, a small moan. Sometimes it would grow into outright tears.
Child: I can't sleep.
Me: What's wrong?
Child: I don't know. My tummy hurts.
Me: Do you feel like you're going to throw up?
Child: Well, sort of, but not really.
Me: Can I feel your head? Do you feel hot? Does your head hurt?
Child: Not really. Sorta.
Me: Let's take your temperature … you don't have any temperature.
Upon mentioning the option of calling in the nurse, I would hear the inevitable, I want to go home. Another case of homesickness.
The inward groaning of a third grader at camp proves that he has a home. Homesickness makes no sense if there is no home to yearn for.
When you inwardly groan with what Paul calls "eager longing," it's homesickness for Heaven. You are headed home one day. Keep heaven on your mind and it'll make you a much more "happy camper" on this earth. And that's the Gospel!
---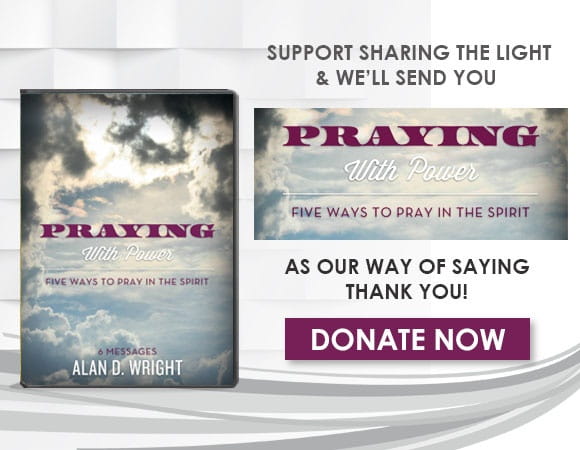 For more information please visit SharingtheLight.org.
Listen to the latest broadcast on OnePlace.com.