Legalism says God will love us if we change. The gospel says God will change us because He loves us. – Tullian Tchividjian
The book of Galatians is a searing letter of correction from Paul to the people who lived in the region of Galatia. It's interesting that when Paul wrote to the Corinthians (a city immersed in flagrant sins of the worst kind), he still found something nice to say about them. Not so the Galatians. The people in this region had fallen for something so severe that Paul used the most intense words possible to wake them up. What could possibly have been so serious?
The Galatians had started out dancing in grace, but then they started marching under a new form of legalism.
Theologians actually call this the "Galatian heresy." Essentially, after Paul left the region, a group of devout Jewish believers moved in and said, "Yeah, everything Paul says is true, but we need the law too." They were trying to mix law and grace, marching and dancing. So how does Paul start this critical letter to the faithful followers in Galatia? By bringing them back to the undiluted simplicity and power of the Gospel.
Grace and peace to you from God our Father and the Lord Jesus Christ, who gave himself for our sins to rescue us from the present evil age, according to the will of our God and Father, to whom be glory for ever and ever. Amen. (Galatians 1:3-5)
This introduction to this critical letter is a potent reminder to us today to never ever mix the purity of the Gospel with anything else.
Jesus, my Lord and my Savior, bring me back to the simplicity and purity of Your Gospel today. I praise You that You gave Yourself up for my sins and that You rescued me from the evil in this world by Your grace. I rest in that now. Show me where I am trying to add anything to Your work by my own works. To You alone be the glory forever and ever. Amen.
Listen to Pete, Jill & Stuart Briscoe on the Telling the Truth broadcast at OnePlace.com
SPECIAL OFFER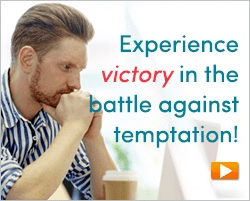 Experience victory in the battle against temptation!
Everyone struggles with sinful desires and selfish motives. So how do you fight against those temptations—permitted by God and promoted by Satan—when your soul feels like a battlefield?
We want to help you experience victory in the battle against temptation by sending you the 4-message teaching series, Triumph Over Temptation, by Stuart, Jill, and Pete Briscoe. This series will equip you with Life-changing biblical truth, so you can turn the next opportunity to do wrong into a powerful opportunity to do right!