True Freedom
As a banker, several customers wanted me to loan money to their friends. Originally, I made some of those loans… provided that my original customer guaranteed the debt.
Many borrowers defaulted, requiring me to collect the loans from unhappy customers. Eventually, I refused these kinds of loans. They were too risky for our customer and for the bank.
Proverbs 6 teaches, "My son, if you have put up security for your neighbor, if you have shaken hands in pledge for a stranger,you have been trapped by what you said."
 The author continued, "Free yourself, like a gazelle from the hand of the hunter, like a bird from the snare of the fowler."
If you desire true freedom, avoid guaranteeing other people's debts. It can save you heartache and money!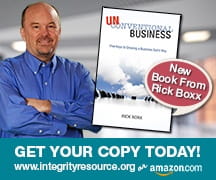 Learn more about Rick Boxx and Integrity Resource Center