I am old, Gandalf. I don't look it, but I am beginning to feel it in my heart of hearts. Well-preserved indeed! Why, I feel all thin, sort of stretched, if you know what I mean: like butter that has been scraped over too much bread. That can't be right. I need a change, or something. — Bilbo Baggins in The Lord of the Ring by J. R. R. Tolkien
A daughter loves it when her daddy reminds her of her princess status. With so many voices telling her otherwise, it sounds so good coming from him. She grins. She hugs. She twirls once more.
Sometimes, we need a reminder of our identity in Christ.
We have died to our old self. We are an entirely new child of God.
His Spirit lives inside us. His Spirit walks with us and gifts us the wisdom of God.
Jesus shows Himself through us every day—in relationships and love.
As believers, we don't live by our own strength. We live by the strength of God. We can rest in Him, dance with Him, find joy in Him because our life is His. And miraculously, His life is ours.
When we start to feel weary or exhausted, we need a reminder. Hey, you're trying to live by the flesh again.
But the one who sows to the Spirit will from the Spirit reap eternal life. And let us not grow weary of doing good, for in due season we will reap, if we do not give up. (Galatians 6:8-9 ESV)
Weariness comes from working in the flesh. Life comes from the Spirit.
"Weariness comes from working in the flesh. Life comes from the Spirit."
TWEET THIS
If you're feeling exhausted, ask yourself a few questions:
Are you serving by your own strength or His?
Are you serving from love or obligation?
Are you afraid to let go of something because you don't know what to do if it's gone? 
Ask God to remind you of your identity. Ask Him to defeat those desires of your flesh. Dance before your Daddy and feel fully alive once more.
Giver of Eternal Life, I can hardly drag my feet through this life. In the exhaustion of my flesh, life sounds like a prison. I surrender to the Spirit. May the Spirit wage war against my flesh and lead me into a place of freedom. Strengthen my weakness. Nourish my soul. Then pour me out before others so they can be free too. Amen.
Listen to Pete, Jill & Stuart Briscoe on the Telling the Truth broadcast at OnePlace.com
SPECIAL OFFER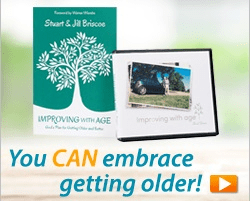 You CAN embrace getting older!
Aging isn't something to be shunned or simply endured. You can be full of joy and purpose in every season of life. Learn how with Stuart and Jill Briscoe's book, Improving with Age, as well as Stuart's companion 6-message DVD series of the same title. These resources are our way to thank you for your gift today.