Spouses Second
According to a Life Innovations Study, employees lose more than 168 hours of work in the year following a divorce, costing workplaces billions in lost productivity.
When our kids were young, Kathy and I established one-on-one time in the evenings with each other. We did not allow the kids to interrupt our time together unless it was an emergency.
We discovered that although the kids received less attention, they seemed to appreciate that mom and dad had placed each other as a priority.
Ephesians 5:33 says, "Each individual among you also is to love his own wife even as himself, and the wife must see to it that she respects her husband."
When you establish your priorities, don't forget to put your spouse's needs above your kids and your work.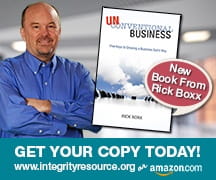 Learn more about Rick Boxx and Integrity Resource Center