The Case for Unconventional Business – Part VI
This week we're discussing the topic of Unconventional Business Leaders. Unconventional Business Leaders pursue excellence God's way.
The world often strives for perfection and personal glory, while an Unconventional Business Leader strives for excellence and deflecting glory to God.
A local company was known for providing an excellent service to the community. Their true motive was for God to receive the glory, but their customers didn't know that.
This company modified their mission statement to clearly state that pleasing God was their purpose. More of their customers now realize who really deserves the praise!
1 Corinthians 10:31 says, "So whether you eat or drink or whatever you do, do it all for the glory of God."
Unconventional Business Leaders are willing to give God the glory for their excellent service.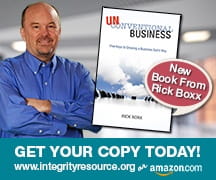 Learn more about Rick Boxx and Integrity Resource Center