TO THE THIRD POWER – One Voice Records Latin pop artist Freddie Colloca recently wrapped up hosting duties for the taping of his third season as host of One Cubed.  The CBN International Latin show is seen by 25 million households in the United States, Argentina, Colombia, Mexico, El Salvador, Nicaragua, Uruguay, and Puerto Rico.  The new shows begin airing this May.  Olé!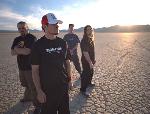 TIME FOR SOME SALT & LIGHT – "Pillar is not selling out or doing this to get rich," stresses the band's lead singer Rob Beckley of the newly inked deal between Flicker Records and MCA Records.  The Flicker/MCA ball starts rolling with a remix of the rock quartet's Fireproof (released to the CBA marketplace last May) and a subsequent release to mainstream retailers later this year.  The single "Fireproof" will hit mainstream radio next month and the accompanying music video will be serviced to MTV and other video outlets.  Back to Beckley…who sez the band has "been praying over [the record deal] for many months making sure we took the steps God would clearly have us take."  Label prez Bob Herdman further clarifies that "[the band] never pursued it.  The mainstream heavyweights sought after them."  The fastest selling album yet for indie Flicker Records, Fireproof has scanned over 125,000 units and snagged two No. 1 singles—one being "Fireproof" which tied with P.O.D. as having the longest held No. 1 song on Rock R&R chart.

A LITTLE BIT O' ESPANOL, BRIT STYLE – The Spanish-language speaking public-at-large needs their Delirious, too, si?  Perhaps that's why the band o' Brits are readying their first Spanish-language CD, Libertad, to be released by Furious Records on May 6.  "A week was spent with a vocal coach from Mexico," reveals lead singer Martin Smith, "painstakingly singing line by line in an attempt to sound like Enrique Iglesias, and then amazingly, Libertad was born."  Right-y-o.  Well, moving right along…Libertad, meaning "freedom", features 12 fan favorites from the early "Cutting Edge" years of Delirious.  Tracks were taken from the band's first four mini-albums and include "I Could Sing of Your Love Forever", "Find Me in the River", "The Happy Song", "Obsession", and others.