WORK IT, WORK IT, WORK IT – At last weekend's movie premiere of Walt Disney Pictures' "The Lizzie McGuire Movie," Sparrow Records' teen group Jump5 worked the red carpet, rubbing shoulders with star Hilary Duff and fellow teen popster Aaron Carter.  The fab fivesome recorded their own version of the Earth, Wind & Fire classic "Shining Star" for the movie soundtrack and according to www.jump5.com, the new song "came on right when Lizzie gets out of the limo to appear at the International Music Video Awards (in the movie, of course!)  We won't tell you any more about the movie so that we don't spoil the plot, but it was super cool."  So, there you have it straight from the jumpsters.  "The Lizzie McGuire Movie" releases nationwide on this Friday, May 2, 2003.  And the next Jump5 production, their fourth studio recording, will release this coming fall 2003 on Sparrow Records.  Are you ready .. are you ready?

WHEN GOD'S PEOPLE PRAY – And now … here's your five-second National Day of Prayer history lesson morsel:  In 1952, President Truman declared an annual, national day of prayer and then in 1988, the law was amended and signed by President Reagan setting the National Day of Prayer as the first Thursday of every May.  Now this year's National Day of Prayer – that would be tomorrow, May 1, 2003, -- involves the efforts of Doxology Records artist Allen Asbury and this year's Dove Award winning "Group of the Year", Third Day.  Asbury's popular single, "Somebody's Praying Me Through," has been selected as this year's official theme song, and Third Day has also joined the NDP band wagon to encourage youth to pray for their schools through the NDP Task Force's "Freedom" campaign.  Youth pastors are asked to mobilize their students to run a student-led "Freedom" event (tonight, April 30, 2003, on the eve of the National Day of Prayer) that will "bring teens together on the common ground of prayer and can be used as an evangelistic opportunity."  For more information, check out the National Day of Prayer's official Web site here.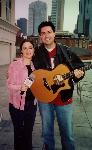 I WANNA BE THE ONE IN CONTROL – The Orlando-based music video program "Control Track" chatted up former PFR front man and solo artist Joel Hanson recently during Gospel Music Association Week in Nashville, Tenn.  Hanson talked about his newest solo disc, "Broken," with host Rebecca Blacksmith.  "Control Track" airs on Sky Angel and the DISH Network.  Check your local listings for times.