THE IMPORTANCE OF BEING TWILA – When you're an artist whose picture could probably be positioned somewhere near the dictionary definition of "worship" (we're thinking a 22-year career as songwriter and recording artist, 32 No. 1 songs, five Dove Awards, three American Songwriter Awards, three books and more than 2 million albums sold are plenty help in the credibility department), then it might not be a surprise when you're the music artist asked to lead worship at the upcoming Charles Colson event, "Being the Body:  A Challenge to the Church."  No doubt Twila Paris is honored with this request, and she has accepted the call and will indeed be part of the May 18, 2003 event which will be broadcast live via satellite to 2,300 churches.  In conjunction with the release of "Being the Body" (W Publishing) -- his follow-up to 1993's "The Body" -- Colson will address the question, "What is the church and what is its relevance to contemporary culture at large?"  Best-selling author Lee Strobel is on board to host the event, presented by Church Communication Network (CCN).  For more information, visit CCNonline.net. 

ORDINARY GUY … EXTRAORDINARY SONG – Or is it extraordinary guy and ordinary song?  Let's just say it's both and give props to Greg Long and "I Cannot Hide from You", which jumps to the No. 1 position on next Monday's CRW Inspirational chart.  The little single that could is from "DAVID:  Ordinary Man … Extraordinary God," a musical portrayal of the life of David featuring Bob Carlisle, Russ Lee, Clay Crosse, Scott Krippayne, Steve Camp, and Long.  Releasing back in March, the multi-artist special project contains a free companion DVD with music videos of each song on the project.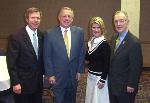 ALWAYS BE A LADY – At yesterday's Tennessee's 29th Annual Governor's Prayer Breakfast in Nashville, Tenn., Curb Records artist Natalie Grant performed the national anthem, as well as "'Tis So Sweet to Trust in Jesus" and "Always Be Your Baby" -- the current single from her latest disc, "Deeper Life."  Pictured here at the breakfast are (l to r):  Nashville Mayor Bill Purcell; Tennessee Governor Phil Bredesen; Grant; and Tennessee Lt. Governor John S. Wilder.  The petite, powerhouse vocalist is also being featured this month at the Coca-Cola "Launching Pad" at www.cokemusic.com.  Grab a Coke.  Check it out.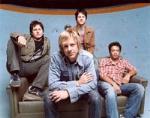 VIVARIN, CHECK … POT O' COFFEE, CHECK – You might need a little help next Monday night, May 5, 2003, if you're planning on spending some tube time watching Switchfoot perform songs from their current release, "The Beautiful Letdown" (which has already spent six weeks in the Billboard top 200!).  The band of four's scheduled performance on CBS' "The Late Late Show with Craig Kilborn " isn't on 'til late late that Monday night.  So do what you need to do to stay awake and be sure to watch.  Check your local listings for times or check out www.cbs.com.