"Then the King wills say to those on His right, 'Come you who are blessed of My Father, inherit the kingdom prepared for you from the foundation of the world.  For I was hungry, and you gave Me something to eat; I was thirsty, and you gave me drink; I was a stranger, and you invited me in; naked and you clothed Me; I was sick, and you visited me; I was in prison, and you came to Me.'  Then the righteous will answer Him, saying, 'Lord, when did we see You hungry, and feed You, or thirsty, and give You drink?  And when did we see You a stranger, and invite You in, or naked, and clothe You?  And when did we see You sick, or in prison, and come to You?'  And the King will answer and say to them, 'Truly I say to you, to the extent that you did it to one of these brothers of Mine, even the least of them, you did it to Me'" (Matthew 25:34-40).

One of the best ways to celebrate a Christ-centered Christmas is to help others in need.  When we spend time in the local soup kitchen, pack a shoebox for destitute children overseas, or deliver presents to children whose parents are incarcerated, we are ministering to Jesus Christ Himself.  We also are opening our children's eyes to the needs of those around us. 

Not everyone lives in a warm, secure home with three meals a day, sleeps in a cozy bed, and has a family that loves him.  Breaking out of our protective cocoon and helping those who are less fortunate keeps our perspective in this materialistic, self-centered, commercialized society.  Celebrating a Christ-centered Christmas is about giving of our resources, our time, and ourselves.

Here are a few ideas for your family:

 Help an elderly person decorate his or her home.  (And take down the decorations at the end of the season!)
 Give an anonymous gift of money to someone who has been laid off or who you know struggles financially.
 Offer to Christmas shop for a disabled person.
 Purchase and deliver a gift for a child whose parent is in prison.  (For more information on an organization that oversees this project each year, see Project Angel Tree.)
 Participate in Operation Christmas Child by packing a shoebox for a needy child overseas.  (See Operation Christmas Child c/o Samaritan's Purse).
 Sort toys for the Salvation Army.
 Volunteer to ring the bell for the Salvation Army.
 Work in a soup kitchen.
 Visit someone in a nursing home who has few relatives.
 Give a pint of blood.
 Let the children hand deliver a cash donation to your favorite charity.
 Baby-sit in a homeless shelter for women and children so the mothers can have a break.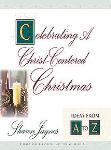 From "Celebrating a Christ-Centered Christmas."  © 2001 by Sharon Jaynes.  Used by permission Moody Press.  All rights reserved.

Sharon Jaynes is the President of The Proverbs 31 Ministry and author of "Being a Great Mom", "Raising Great Kids", "At Home with God" and "Stories of Life, Love and Laughter."  She lives in North Carolina with her husband Steve and son Steven.