"YOU WERE THERE" … If you missed out on Switchfoot's concert at San Diego's fabled punk rock venue Soma way back when, then here's your chance to feel like you were there when the "Live in San Diego" DVD releases March 23.  Featuring a scorching set from the rock group's Columbia/Red ink debut, "The Beautiful Letdown," the DVD also takes you behind the scenes of the "Meant to Live" video shoot (directed by Laurent Briet) and includes candid interviews with band members, as well as exclusive photo galleries.  Before the DVD's release, the San Diego-based rockers will perform on "The Tonight Show with Jay Leno" and "On Air with Ryan Seacrest" and kick off their spring tour on March 15 at the House of Blues in Anaheim, Calif.

TAKE HOME THIS ASSIGNMENT … For their first bit o' musical homework for Emtro Gospel, newly signed artist L. Spenser Smith & Testament will bring their "neo-gospel" sound to the masses with "Assignment No. 1" on June 8, 2004.  Smith and the 20-voice ensemble (Testament) hail from Greater New Testament Church in Tuscaloosa, Ala.  Working with producer John Jackson (minister of music at the church, besides being music director for "American Idol" winner Ruben Studdard), the group hopes to "take the gospel to the people who need it most – the world," says Smith.  "It's time to be heard by the masses, but we must remember our first assignment – rescue the perishing and care for the dying.  This album is simply about that mandate."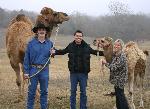 FACES FOR RADIO … So when you think of Christian radio, you naturally associate that with camels, right?  Uh huh.  Well, you might if you were in the same neck o' the woods as K-LOVE Radio Network Morning Show host Jon Rivers.  Jon and his wife Sherry live and work from their ranch near Dallas, Tex. and recently hosted Christian Records artist Greg Long (pictured center with the Rivers and their camels Moses and Isaac), as he made his way through a promotional tour supporting fifth solo effort, "Born Again."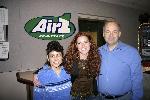 Other recent radio visits, excluding live animals, include Sarah Kelly's trek to Air-1 Radio Network's home base in Sacramento, Calif.  The Gotee Records artist's debut, "Take Me Away," releases today and has already spawned the title cut as the first radio single.  Pictured (l to r) are:  Air-1 Network Announcer Michelle Morgan, Sarah Kelly and Air-1 Network Program Director Bryan O'Neal.