The last several decades have seen amazing advances in technology.  My parents were excited about black-and-white television, and they threw a party when BBC TWO was launched in the 1960s.  Now with satellite and cable television there are more channels and features available than they ever dreamed of.  Along with this, the Internet gives us access to more information than any of us know what to do with, and we can talk or send pictures on mobile phones to people on the other side of the world.
With all the scientific and medical advances, sometimes it is hard to find anything that astounds and surprises us.  Mystery and wonder have been lost.  Take the sense of wonder from human beings and you make them the poorer.  Looking in a dictionary, I find words that cluster around the idea of wonder, words such as "amazement," "surprise," astonishment," "bewilderment," "admiration," "awe" and "fascination."  When we look to Jesus, when we soak in His Word, these are the kinds of responses that should grip our hearts.  As our eyes open to all that Jesus has done and as these mysteries amaze us, our only response should be wonder and heartfelt worship.
When I was a little boy, one of life's highlights was when my dad said, "Tim, we're going to McDonald's for dinner today."  I loved it.  As we'd approach the golden arches, the excitement was overwhelming.  We'd stand in line and I'd order the same thing every time:  Big Mac, fries and chocolate milk shake.  Every mouthful was amazing and nothing else in life compared with eating at McDonald's all too often.  Just recently I popped in for some lunch and ordered my usual.  As I walked out, it happened – I'd lost the wonder of McDonald's!
Complacency can be such a dangerous thing.  If we have been Christians for a long time, we can easily fall into it.  We've heard the stories hundreds of times, we've sung the songs and prayed the prayers, and now nothing really surprises us.  To be honest, often when I read the Bible, my heart isn't full of wonder.  As I sing to Jesus, I'm not always overcome by awe.  Hymn writer William Cowper wrote in the 1700s, "Where is the blessedness I knew when first I saw the Lord?  Where is the soul-refreshing view of Jesus, and his word?"1  These words are often my words.  Romans 12:11 says, "Never be lacking in zeal, but keep your spiritual fervor, serving the Lord."  We have a responsibility to maintain our passion for Jesus.  We need to find those places of wonder where our souls can be refreshed by who Jesus is.
About Saint Francis of Assisi, G.K. Chesterton wrote, "His religion was not a thing like a theory but a thing like a love-affair."2  For this reason we need to pray for more revelation.  In my life there have been times when I've become legalistic and tried to love God more by doing religious things.  Yet doing hasn't deepened my passion for Jesus.  The only thing that deepens my passion is God-given revelation of who He is.
Keeping Our Eyes on Jesus
Losing something of worth is always horrible.  When it happens, we are sure to search high and low until we find whatever we lost.  For a parent, the worst nightmare must be that of a missing child.  I remember, when I was about 10, coming home from school to find my mom deeply distressed.  My little brother, Stephen, who was about four at the time, had been missing all afternoon.  My parents had looked everywhere, and the police were now involved in the search.  I started running around the neighborhood calling out for Steve, desperately hoping he'd be all right.  After about half an hour, I came back home and was in our back garden when I saw something in the bushes and went to investigate.  To my delight I found Stephen fast asleep under a bush.  He'd been playing football and had kicked the ball into the bush.  He obviously went to recover the ball but for some bizarre reason decided to have a little siesta.  Immediately everything was all right.  The panic and fear became a distant memory.  All that mattered was that Stephen had been found.
Luke's Gospel tells us the story of when Mary and Joseph lost their son, Jesus:
Every year his parents went to Jerusalem for the Feast of Passover.  When he was twelve years old, they went up to the Feast, according to the custom.  After the Feast was over, while his parents were returning home, the boy Jesus stayed behind in Jerusalem, but they were unaware of it.  Thinking he was in their company, they traveled on for a day.  Then they began looking for him among their relatives and friends.  When they did not find him, they went back to Jerusalem to look for him.  After three days they found him in the temple courts, sitting among the teachers, listening to them and asking them questions.  Everyone who heard him was amazed at his understanding and his answers.  When his parents saw him, "Son, why have you treated us like this?  Your father and I have been anxiously searching for you" (2:41-48).
Whenever I read this story, I'm surprised at how long Mary and Joseph failed to notice that Jesus wasn't with them.  How could they lose their 12-year-old son?  Were they bad parents?  Did they not care about Jesus?  We can reasonably presume that Mary and Joseph loved their son.  So what happened?  Perhaps in the rush and stress of organizing everyone to return home after the festival, Mary and Joseph took their eyes off Jesus.  They assumed He was in their company.  They had become complacent that Jesus would always be with them and had, for a while, stopped paying attention to His whereabouts.  It was only after a day that they actually took stock and realized Jesus was missing.  When they eventually found Him, Mary was clearly relieved, as well as pretty cross!
We can't be too harsh on Mary and Joseph.  The truth is that at times we can all get complacent in our relationship with Jesus.  Often I find myself rushing around from meeting to meeting.  It's only when I get to the end of the day that I look back and realize that I've failed to involve Jesus in all that I've done.  I haven't been mindful of Him, and I've assumed that I've been walking in His path.  I continue to do all the right things, but inwardly I'm not maintaining my relationship with my Savior.
Embracing the Place of Wonder
Recently on a trip to Canada I had the privilege of visiting Niagra Falls.  Standing before this sight I was amazed by the intensity and velocity of the waterfall.  Hour after hour, day after day, year after year, water never stops pouring down.  Incredibly, it is estimated that approximately 600,000 gallons of water flow over Niagra Falls every second.  As I beheld this awesome view, God spoke to me about His giving heart.  For too long I viewed God as well.  You dig deep for water, but eventually it dries up.  However, God reminded me that there is no end to His goodness, His mercy, His power.  The deeper we dig, the more we discover.  Like the torrents of water that keep on flowing over Niagra Falls, God's heart keeps on giving to His children.  He is the giver of living water, and those who drink this water will never thirst again (see John 4:10-14).
As worshippers of Jesus, we therefore need to find oases to refresh our souls.  We need to keep looking at the big picture.  We need revelation.  Sometimes when we've lost that soul-refreshing view, the first step to recapturing it is to become desperate.  That's exactly what happened when Mary and Joseph realized Jesus was missing – they became desperate.  They were "anxiously searching" (Luke 2:48) for Him.  When we read this, it can seem quite understated.  I get anxious when I watch England play soccer or when I visit the dentist.  In the end, however, it's not such a big deal.  In the biblical context, the Greek word used in Luke 2:48 for "anxious" can also be translated "to be in agony" or "to grieve."3  Jesus' parents were deeply distressed at losing Him.  They realized how important He was to them and kept looking until they eventually found Him.  When we feel that we're in a dry place, that the fire in our hearts is all but embers, then it's time to get desperate.  It's time to start seeking with all that we have, until we find our lost passion.  The cry of our hearts has to be "There must be more!"
The first place we need to look to discover more of God is in His Word.  Since we are followers of Jesus, the Scriptures must always be close to us.  In the psalms we see how David viewed God's Word:  "How sweet are your words to my taste, sweeter than honey to my mouth!" (119:103); "Your word is a lamp to my feet and a light for my path" (v. 105).  David knew how precious and valuable the Scriptures are.  If we want to grow in our understanding of God, we need to feast on His Word and fill our minds with His truth.  Sometimes, to sit down and read the Bible takes discipline.  It's not always an easy book to read.  But we need to delve deep and extend ourselves in studying and reading it.
I'm fairly confident that no one reading this would disagree.  Many of us do not need convincing that reading the Bible is a worthwhile thing to do.  The issue many of us struggle with is how to read the Bible in order to maintain a sense of wonder.  Without creativity, our Bible reading can become legalistic, stale and boring.  Here are some suggestions for keeping it fresh:
1. Before reading the Bible, ask the Holy Spirit to give you revelation.  The most common prayer Paul uttered in his letters to the churches was that they would have more revelation of Jesus.  Indeed, Jesus said that one of the main roles of the Holy Spirit would be to take that which is about Him and make it known to you (see John 16:13-14).  The Bible was inspired by the Holy Spirit, so it follows that it is arrogant to assume you can interpret it without His help.

2. As you read the Bible, turn it into prayer.  Talk to Jesus about what you read.  Ask Him questions.  Thank Him for what He has shown you.  Praying the Scriptures is a great way to make them live within your heart.

3. Be creative.  Vary the way you read the Bible.  Sometimes it's good to read a book of the Bible as you would read a novel.  At other times you may want to dwell on and meditate on one verse, one story or one psalm.  Sometimes you may want to come back day after day to one passage with the aid of a commentary and study its meaning.  It can be very rewarding to take one character in the Bible such as Joseph, Moses, David, or Esther and discover how God dealt with him or her.  In order to keep your study from simply becoming theory, always ask God what lessons you can learn from the character's life.  Some great books have been written on many of these Bible characters, and you may find the books helpful. 

4. Ask a different member of your worship band to prepare a few minutes of simple thoughts on a passage of Scripture to start off each practice. 
Alongside reading God's Word, we need to carve out time to listen and wait.  In the mad rush of life, quietness and solitude are often neglected.  We miss the still, small voice of the Lord.  It is essential to make space in our lives to reflect and ponder.  We need those places beside quiet waters where our souls can be restored.  I love the story of a farmer who went to work shifting hay.  While working in the hay barn, he realized that he'd lost his watch.  The farmer and his friends spent many hours searching for it, but after a while they gave up and went home.  Watching the proceedings was a little boy.  After everyone had left, he went into the barn, lay down and waited until there was complete silence.  It wasn't long before the faint sound of a ticktock, ticktock could be heard.  The boy followed the sound and was able to retrieve the watch.
We need to find those times of quiet.  Every day our minds and hearts are filled with the things of this world.  Too often the hectic pace of our lives drowns out the still, small voice of God.  Learning to listen will fuel our passion for Him.
Our greatest need is to encounter the living God and draw near to Him.  Our prayer has to be that of the psalmist Asaph:  "But for me, it is good to be near God" (Ps. 73:28).  There are many ways to do this:  reading the Word, being still, taking a walk in the country, listening to a CD, and so on.  Whatever it takes, hunger and thirst after Him, as there is always more of God to discover.  Warren Wiersbe wrote:
This is the paradox of Christian worship.  We seek to see the invisible, know the unknowable, comprehend the incomprehensible, and experience the eternal.  Like David, we thirst after God and we're satisfied and dissatisfied at the same time.  Like Moses, we cry out for his glory, all the while knowing that our mortal eyes could never behold God's glory in its fullness.4
Paul, in his first letter to the church of Corinth, says "Now we see but a poor reflection as in a mirror; then we shall see face to face.  Now I know in part, then I shall know fully, even as I am fully known" (1 Cor. 13:12).  Until we stand face-to-face with almighty God, we will never fully comprehend how glorious He is.  For now we see in part; we catch glimpses of His glory.  As worshipers we need to press on.  We need to go deeper in order to go further.  We need to embrace the mystery of God so that we never lose the wonder.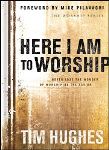 From "Here I Am to Worship," © 2004 by Tim Hughes. Published by Regal Books, 1957 Eastman Ave, Ventura, California, 93003. Used by permission. All rights reserved.
Tim Hughes, at age 11, had his first encounter with a genuine display of abandoned praise and professed his faith in Christ.  Five years later, Tim attended one of the premier festivals of Soul Survivor, the powerful international movement that seeks to reach, disciple, equip and empower young people to make a difference in their generation.  There, Tim soaked up the passion to reach his own generation of Christ through music.  Tim currently lives in London, England, leading worship for Soul Survivor events and teaching others how to never lose the wonder of God.