"I can only imagine."

They were just four simple words.  A phrase I scribbled in notebooks and on scraps of paper in the months after my father died, trying to make sense of an unimaginable loss.  I was still in my teens when cancer took my dad from me, and the well-meaning words of others – "he's in a better place" or "he wouldn't want to be back here" – did little to comfort me.
Years later I would stumble upon that phrase and, still hurting, I would turn it into a song in an attempt to help myself heal.  In the beginning, I wasn't trying to imagine what Heaven was like out of some Christian sense of wonder.  I simply was trying to make sense of my father's early death.  I had heard all the stories about how wonderful the next life would be, but I was still grieving, struggling to figure out what could be so wonderful about Heaven that my dad would be willing to leave me so soon. 
And the song did help.  Dad had been a godly man, and imagining my earthly father meeting his heavenly Father helped me heal.  Pondering what he was seeing and knowing he was free of the physical limitations he'd had here on earth helped bring me peace.  "I Can Only Imagine" seems to help others who were hurting as well.  So while it didn't necessarily fit on the worship album we were recording at the time, MercyMe began to perform the song at every live show.
Even with the positive response, though, my band mates and I had no idea then how God planned to use that song or how, a decade after his death, it would help my father fulfill a promise he made to continue to take care of me.
We could see the impact the song was having on others by the expressions on their faces when we sang it each night.  Afterward, they lined up to share their stories.  At times it was overwhelming, looking at their photos of lost loved ones, seeing their pain and grief, and hearing how the song had been played at a funeral or memorial service.  Some nights the band would return to the bus, and we would just break down.
Although each person's story was unique, there were many common threads.  After hearing hundreds of tales, I began to anticipate them, to prepare myself for another emotional story.  But just when I thought I knew what was coming, I would be surprised.  One man came through the line after a show, his three sons in tow.  As he began to tell of losing his wife, I nodded in understanding.  But as I began to offer my condolences, the father stopped me.  "That's not what I wanted to tell you," he insisted.  Then he went on to share how all three of his sons had accepted Christ that night.  They had only agreed to come to the show because they wanted to hear "I Can Only Imagine," one of their mother's favorite songs, and they left with their lives and hearts changed.
God continued to use the song in my own life as well.  Before he died, my father set up an annuity, which ensured I would receive a check every month for ten years.  It wasn't enough to go crazy, but it allowed me to work on my music without having to deliver pizzas on the side.  Even though the money would only arrive for a set amount of time, my father promised me before he died that he would still provide for me after that ten years was up.  As a teenager, you don't want to think about a parent dying, let alone what will happen after, so I kind of blew him off and didn't give much thought to what he said.
In January 2002, "I Can Only Imagine" was running up the charts.  I had been watching its progress with interest, waiting to see if it would land in the number one spot.  But then my son was born, and the charts faded from my mind.  Not until I was doing a radio interview did I find out "I Can Only Imagine" had reached the top spot.  As the DJ congratulated me, I was overcome with emotion – but not because my song was a success.  A bigger story was unfolding.
The last check from Dad had just arrived, and that money, still a good chunk of my growing family's income, would be missed.  But as the DJ gave me the news, understanding began to dawn.  My father's words came back to me:  "Even when the money runs out, I'll still be taking care of you."  And he was!  The song he had inspired was going to keep the promise my dad had made all those years before. 
As the months flew by, it became clear that this little song was doing more than putting to rest lost loved ones; it was changing the lives of the living.  And no one was more amazed than me.  God was taking this song to places we couldn't have dreamed.  Mainstream radio began playing it, and calls flooded into the stations.  This overt message of faith was resonating with people who hadn't considered spiritual matters in years.  Others told of being so moved that had to pull over to the side of the road until the song was done playing.
The response was beyond MercyMe's comprehension, but we knew that ultimately it wasn't about us or even about this song – God was using a willing band and a simple tune about Heaven to draw people to Himself. 
And He's not done yet.

"That which dominates
our imagination and our thoughts
will determine our lives and our character."
Ralph Waldo Emerson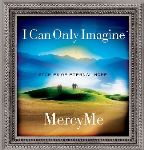 Excerpted from "I Can Only Imagine" by MercyMe. Copyright 2004 by Simpleville Music, Inc.  Used by permission of J. Countryman, a division of Thomas Nelson, Inc."
After a record-breaking 2003, a recent entry on Billboard's Top 200 Chart at #12 for their new album "Undone," and new hit single "Here With Me" climbing to the top of the radio charts, INO Recording artist MercyMe swept the 34th Annual GMA Music Awards, garnering 4 Doves including Group and Artist of the Year and Song of the Year.

MercyMe became one of the fastest-selling new artists in Christian music history with their release of "Almost There" in the fall of 2000. The project features the multi-genre hit, "I Can Only Imagine," which reached the top 4 on mainstream AC, and top 25 on both the CHR/Pop and Hot AC chart. "Almost There" has been certified platinum and remained on the Billboard Top 200 for nearly 100 weeks. Their follow-up album "Spoken For" has been a consistent top-seller and is certified Gold.