Some say there are many roads leading to God, but Jesus affirmed, "I am the way and the truth and the life." 

Perhaps we could capture more fully the significance of this statement by looking at each of the three things Jesus calls himself.
First, Jesus is the road to God. Interestingly, in this text, Jesus does not refer to himself as a door to God (more on that in a moment) but as a pathway to God. This suggests a journey, a way of life. In his Following of Christ, Thomas à Kempis calls this "the Royal Road of the Holy Cross." Certainly every road has a destination, but until you reach the specific place you're going, what matters most is how you travel--unwavering forward movement, staying focused, keeping perspective.
For the person who meets Christ, everything changes and nothing changes. In one sense, everything stays the same. Same house, same furniture. Same relationships, same job. On the other hand, how you understand the ordinary and daily routines of life changes dramatically. Every day becomes God's day, and every moment is a sacrament.
The writer of Hebrews tells us about this journey:
Therefore, since we are surrounded by such a great cloud of witnesses, let us throw off everything that hinders and the sin that so easily entangles, and let us run with perseverance the race marked out for us. Let us fix our eyes on Jesus, the author and perfecter of our faith, who for the joy set before him endured the cross, scorning its shame, and sat down at the right hand of the throne of God. Consider him who endured such opposition from sinful men, so that you will not grow weary and lose heart. – Hebrews 12:1-3
Jesus, who walked the roads of life and finished his journey well, offers himself to us as the road of life, the way through life. He is the pathway to God and God-life, but he is also the doorway, the entry point into a new reality, and the Cross is an encounter with God and his world.
Yes, I believe that Christ's death and resurrection are historical events. Paul was convinced of this as well, because he not only had a powerful personal encounter with the risen Christ, he was also able to speak with dozens of actual eyewitnesses of those events. Many have said that Paul's remarkable conversion is one of the most powerful indicators of the credibility of the Christian faith.
Yes, I believe that faith in Christ means getting the gospel right. True followers of Jesus are concerned about correct doctrine, and for centuries Christians have labored to understand the precise meanings of Scripture. That Jesus died for my sins is an indisputable proposition, an absolute truth, the factual anchor of my faith.
We will see throughout this book, though, that believing in Christ and taking up your cross is a journey of experience and encounter as well. Quoting the Old Testament, Jesus said, "Love the Lord your God with all your heart and with all your soul and with all your mind." There is a mental element to our faith, but there's so much more.
Paul wrote, "My message and my preaching were not with wise and persuasive words, but with a demonstration of the Spirit's power, so that your faith might not rest on men's wisdom, but on God's power." Eugene Peterson's "The Message" paraphrases the last part this way: "Your life of faith is a response to God's power, not to some fancy mental or emotional footwork by me or anyone else."
THE TRUTH

So Jesus is the pathway to God, a journey of daily encounters. Second, Jesus is the truth. There is perhaps no more controversial word: truth. Two thousand years ago Pilate asked, "What is truth?" It's still the question du jour, although people are asking it a little differently.
Look carefully at Neo's response when Morpheus tells him that his world has blinded him to the truth: "What truth?" Not what is truth, which implies there might be an answer, but what truth, suggesting that any number of responses might work. National research by the Barna Group tells us that the great majority of Americans, and almost everybody born after 1970, believes that absolute truth is a thing of the past. Allegedly, truth can't be known, and we hear it all the time: "What's true for you may not be true for me."
We're beginning to see the sunshine of our civilization sink into a dark sea of moral chaos, from Columbine to Enron. Earlier this year my son David Kinnaman, vice-president and strategic leader for the Barna Group, found an appalling absence of conscience among both nonreligious and religious young people: "Fewer than 1 in 10 teenagers believes that music piracy is morally wrong."

Relativism, though, is relatively foreign to the rest of the world. Lamin Sanneh, a native of Gambia and professor of Mission and World Christianity at Yale, writes,
The West, viewed broadly as a cultural system of ethics, images, music, literature as well as science and technology, has reduced the mystery of God to a cultural filibuster. [The West holds that] truth cannot be known with certainty, and one can be certain of that.
Sociologist Alan Wolfe has written an entire book about this phenomenon, that American society is the first in human history to believe there is no such thing as objective, absolute truth. Wolfe shows how, carried to its logical conclusions, the belief that there are no moral absolutes is philosophically indefensible. Though Wolfe cites a number of peculiar (and often bizarre) consequences of living in a truth vacuum, like any good American he makes no judgment about what's right or wrong with this kind of world, concluding that the jury is out and only time will tell if our society can survive.
Christian leaders continue to argue for "the truth," correctness of belief in a world that simply doesn't care. Because so many people believe truth is relative, religious appeals based on truth can seem irrelevant. Worse yet, we live in a culture of contradiction, where people are increasingly intolerant of intolerance. Most of our social indicators, everything from teen suicide to divorce to prison population, are shouting that we are a rudderless ship in a perfect storm.
Centuries ago the Hebrew prophet Hosea identified the primary cause of social disorder:
[Because there is] no acknowledgment of God in the land ... there is no faithfulness, no love.... There is only cursing, lying and murder, stealing and adultery; they break all bounds, and bloodshed follows bloodshed. Because of this the land mourns, and all who live in it waste away.
RETHINKING TRUTH

The polarized lines are drawn. Is there an answer? Can we know with certainty that some things are true and some are not? Is there hope? Certainly not in the rhetoric of the right or the left, both of whom are convinced they're right (even though the left cannot be absolutely right).

Instead, our hope is in the person of Jesus Christ, who is the source of abundant life on the pathway to truth. But hold on to your hats, "this ride is going to take a sudden turn. Buckle your seat belt, Dorothy, because Kansas is going bye-bye." When Jesus describes himself as the truth, we world-minded, rational-thinking Westerners jump straight to the linear conclusion that he means something like math. Or doctrine. Or religious correctness. Well, he did and he didn't.

Jesus was full of truth, but the richer meaning of the Greek term for "truth," alétheia, is startling and can free us from our obsessive-compulsive need to make our point. Alétheia (and its family of derivative words) doesn't exactly mean "true" in the sense of "mathematically correct," or like a true/false exam. It carries a broader meaning as expressed by the following ideas: "truthfulness, dependability, righteousness, honesty, genuineness, authentic, the real deal." Alétheia is "reality as opposed to mere appearance."

This is precisely the way John uses this term when Jesus calls himself "the true light," "the true bread," "the true vine," and when he calls his Father "the true God." Jesus is the real light, the real bread, the real vine, and the God of the Bible is the real God. In John, Jesus tells a Samaritan woman that the heavenly Father is looking for "real worshipers," that is, "those whose religious exercises are in actual fact and reality an approach to God, and not a shadowy ritual which either counterfeits or at best merely symbolizes the approach to God."

Thus, in the following quotations from John's writings, wherever the word truth is used, read the verse using the phrase true reality:
Sanctify them by the true reality; your word (logos) is true reality.

Real worshipers must worship in spirit and in true reality.

Then you will know the true reality, and the true reality will set you free.

If we claim to have fellowship with him yet walk in the darkness, we lie and do not live by (in, according to) true reality.

If we claim to be without sin, we deceive ourselves and the true reality is not in us.

Pilate: "What is truly real?"

"I am the way and the true reality and the life."
What does all this mean? In my view, people in our world aren't just searching for the right religious answers; people are desperate for ultimate reality. I've heard it, I've sung it: "Jesus is the answer for the world today." I'll no doubt sing it again, but when you think about it, "the answer" is so impersonal, so academic! Jesus the Son of God isn't just empirical, scientifically verifiable truth to which we give mental assent. No, Jesus is personal reality, the pathway, "the ultimate reality of the universe." Jesus is a real person I can know, encounter, experience, and obey.

Jesus, the Word of God, is not something to which we give intellectual agreement, but someone whom we fully accept. Jesus is the real God made real flesh. When we are born again, his nature becomes our nature, his DNA becomes our DNA, his life reality becomes our reality. When we encounter Christ, the reality, our reality changes forever.

Partaking of Jesus is ... well ... like swallowing the red pill in "The Matrix." Does this offend you?
"I tell you the truth, unless you eat the flesh of the Son of Man and drink his blood, you have no life in you. Whoever eats my flesh and drinks my blood has eternal life, and I will raise him up at the last day. For my flesh is real food and my blood is real drink. Whoever eats my flesh and drinks my blood remains in me, and I in him." ...

On hearing [this], many of his disciples said, "This is a hard teaching. Who can accept it?"

Aware that his disciples were grumbling about this, Jesus said to them, "Does this offend you?" – John 6:53-56, 60-61, emphasis mine.
Consider a reality check next time you participate in the Lord's Supper. Let the body and blood of Christ take you out of the illusion of your transitory world and into the eternal realities of his kingdom.

REAL REALITY

Below is a list of extraordinary biblical statements about real reality. As you read them, ask yourself a few questions: Who's living an illusion, people who believe in Christ or people who don't? Who needs to take the red pill? Who needs to be washed in the blood of Jesus? What happens to people when they live in the wrong "reality"?

And please, pray as you read these verses. I don't merely want you to understand what I'm writing; I want you to encounter the Christ about whom I'm writing. My prayer is for you to enter his reality. Don't settle for "Wow, this is great stuff – interesting book." I want you to connect with the Jesus who has miraculously changed my reality and transformed my life.
The Bible on reality:

The god of this age has blinded the minds of unbelievers, so that they cannot see the light of the gospel of the glory of Christ, who is the image of God. – 2 Corinthians 4:4

I tell you this, and insist on it in the Lord, that you must no longer live as the Gentiles do, in the futility of their thinking. They are darkened in their understanding and separated from the life of God because of the ignorance that is in them due to the hardening of their hearts. Having lost all sensitivity, they have given themselves over to sensuality so as to indulge in every kind of impurity, with a continual lust for more. – Ephesians 4:17-19

As I have often told you before and now say again even with tears, many live as enemies of the cross of Christ. Their destiny is destruction, their god is their stomach, and their glory is in their shame. Their mind is on earthly things. But our citizenship is in heaven. And we eagerly await a Savior from there, the Lord Jesus Christ. – Philippians 3:18-20

Therefore we do not lose heart. Though outwardly we are wasting away, yet inwardly we are being renewed day by day. For our light and momentary troubles are achieving for us an eternal glory that far outweighs them all. So we fix our eyes not on what is seen, but on what is unseen. For what is seen is temporary, but what is unseen is eternal. – 2 Corinthians 4:16-18

What I mean, brothers, is that the time is short. From now on those who have wives should live as if they had none; those who mourn, as if they did not; those who are happy, as if they were not; those who buy something, as if it were not theirs to keep; those who use the things of the world, as if not engrossed in them. For this world in its present form is passing away. – 1 Corinthians 7:29-31

Faith is being sure of what we hope for and certain of what we do not see. – Hebrews 11:1
Ah yes, faith! We have to talk about faith in all this; after all, it's "the evidence of things not seen," and "we live by faith, not by sight." This means that faith allows us to tap into reality ... God's reality ... the only true reality. Furthermore, faith is active, not passive. It's creative. It's transformational. Faith is how we change our reality. Let me explain.

BELIEVING "INTO"

Throughout the gospel of John, we come across a remarkable phrase found nowhere else in ancient Greek literature, a unique grammatical construction that means, literally, "believe into," in contrast with "believe in." John had to invent (as it were) a new phrase to express fully this idea of faith.

Instead of a weaker "I believe" or "I agree," New Testament faith is more like "I fully buy into it, and I'm going to let God's reality become my reality." To put it simply, we believe in an idea, but we must believe into Christ to encounter and experience reality. Look again at these familiar sayings:
God so loved the world that he gave his one and only Son, that whoever believes in him [literally, "believes into him"] shall not perish but have eternal life. – John 3:16, emphasis mine

To all who received him, to those who believed in his name [that is, "into his name"] he gave the right to become children of God. – John 1:12, emphasis mine
Faith is a plunge into the real. Faith changes our reality by allowing us to look at what cannot be seen. As we think about the power of faith, however, I want to make something very clear: For the Christian, faith is not some cosmic power equally accessible to all living beings, some force I can use to bend spoon handles this way and my future that way.

Biblical faith is antithetical to the popular New Age idea that faith is power to reach your dreams. If you just visualize it ... if you just say it ... no, the object of our faith is the person of Christ alone, his word, his reality. Faith is not believing for what I want but living my life as though everything God says in his Word is alétheia: the truth, the ultimate reality. Faith has no intrinsic power, but Jesus does! Faith opens our hearts to heaven, opens heaven to our hearts, and releases the supernatural power of God into our world.

CAN YOU SEE?

A wonderful example is the ancient Israelite leader Joshua. His mentor, Moses, was the man God used to lead the chosen nation of Israel out of slavery in Egypt, through the Red Sea, and to the maroon shadows of Mount Sinai. After receiving the Ten Commandments and the rest of the Law there, the massive Israelite column snaked its way across the desert toward the Promised Land.

As is commonly known, that part of the world is neither scenic nor hospitable, and many of the people became disgruntled. Again and again Moses heard them whining in the backseat, "When are we going to get there?" At long last they reached the banks of the Jordan River, the eastern boundary of the Promised Land. When they imagined, though, that the people inhabiting their land had weapons of mass destruction, their collective faith in God's promise imploded in a wimpy gasp. I have a mental picture: To God, this moment looked and sounded like what happens when you let go of a big balloon. Sputtering erratically through the room, it shrinks in seconds from the size of a watermelon to a colored fragment puddled motionless on the floor.

Standing there at the Jordan, the faithlessness of the Israelites grew so fierce that the Lord couldn't contain his wrath. "Forty years," blared God's judgment: "Forty years you will wander in the desert, until every last one of you dies. Including you, Moses. But not Joshua and Caleb, because they have faith."

Decades later all the original wanderers were resting in their sandy graves as their children and grandchildren returned to the banks of the Jordan. Straining his aging voice, Joshua said to the Israelites,
Come here and listen to the words of the Lord your God. This is how you will know that the living God is among you and that he will certainly drive out before you the Canaanites.... See, the ark of the covenant of the Lord of all the earth will go into the Jordan ahead of you. – Joshua 3:9-11, emphasis mine
Let's stop here for a moment with them. Let's see what they're seeing. Forty years before, their fathers and mothers had failed to enter the Promised Land for one principal reason: lack of faith. The prospect and potential consequences of war with the various Canaanite peoples was more real to them than what God had promised. As a result, they failed to live in God's reality and enter Canaan; instead of a land flowing with milk and honey, they chose suffering and death in the wilderness of their own self-destructive choices.

Now at last a new generation was facing the same challenges: to believe God or to believe their fears. This time, though, the danger was not the giant Canaanite warriors and their well-defended cities. On this particular day, the Jordan River was a flood.

I've seen it, both the Jordan and desert floods. Here in Phoenix, my home city, we have a river (the Salt) that's nearly always desert-dry. I drive through the boulder-strewn, quarter-mile-wide gully several times a month. However, a couple decades ago we had record rains, and that dusty channel roared with the equivalent of one third the flow of the Mississippi River! All but one bridge toppled into the swirling chocolate flood, and for weeks we had a traffic nightmare.

You had to see it to believe it ... and so did the Israelites. Looking at the flooded Jordan, they had to "see" God's promise. Remember, faith is the evidence of things not seen. Looking at one thing, they had to see another. I said this earlier: Faith is how we change our reality. Again, to qualify, faith is not how we create reality – faith is not the force. Faith is how we transform our reality by identifying ourselves with God's reality. As the Israelites stood there, they faced a choice of realities: their "real" world or God's true reality; the flood or God's power to get them through the flood. This time, unlike their fathers and mothers, they made the right choice; this time they proved God was alétheia. God was true. God was real.

Joshua instructed them,
"Choose twelve men from the tribes of Israel, one from each tribe. And as soon as the priests who carry the ark of the Lord – the Lord of all the earth – set foot in the Jordan, its waters flowing downstream will be cut off and stand up in a heap."

So when the people broke camp to cross the Jordan, the priests carrying the ark of the covenant went ahead of them. Now the Jordan is at flood stage all during harvest. Yet as soon as the priests who carried the ark reached the Jordan and their feet touched the water's edge [just like God said], the water from upstream stopped flowing. – Joshua 3:12-16

[The water] piled up in a heap a great distance away, at a town called Adam in the vicinity of Zarethan, while the water flowing down to the Sea of the Arabah (the Salt Sea) was completely cut off. So the people crossed over opposite Jericho. The priests who carried the ark of the covenant of the Lord stood firm on dry ground in the middle of the Jordan, while all Israel passed by until the whole nation had completed the crossing on dry ground. – Joshua 3:16-17
Believing is seeing. Can you see it?

JAHWEH JIREH

Let's revisit verses 10 and 11 for a moment:
This is how you will know that the living God is among you and that he will certainly drive out [your enemies]. See, the ark of the covenant of the Lord of all the earth will go into the Jordan ahead of you.
The Hebrew word for "see" is in the same word family as Jahweh Jireh, which means "the Lord will provide," a phrase we find much earlier in the story of Abraham, when God mysteriously told him to sacrifice his only son.

Abraham, the father of the Jewish nation, took wood for the burnt offering and placed it on Isaac, and he himself carried the fire and the knife. As the two of them went on together, Isaac spoke up and said to Abraham, "Father?"

"Yes, my son?" Abraham replied.

"The fire and wood are here," Isaac said, "but where is the lamb for the burnt offering?"

Abraham answered, "God himself will provide [Jahweh Jireh] the lamb for the burnt offering, my son."

And he did. When Abraham and Isaac reached the site of the sacrifice, there was a ram with its horns snagged in a thicket. The force of Abraham's faith didn't create the ram or drag it into the bush, but his faith did engage him in the reality of God's provision. For Christians, this narrative prefigures the death of God's only Son; Jahweh indeed provided a sacrifice, Jesus Christ. Some Bible scholars believe the place of Abraham's sacrifice was the very spot where, one day, Jesus would die for our sins.
Somehow, in the mystery of the moment, Abraham actually "saw" this. Listen to what Jesus says (are you sitting down?):

"Your father Abraham rejoiced at the thought of seeing my day; he saw it and was glad." [Seeing Christ transformed Abraham's reality!]

"You are not yet fifty years old," the Jews said to him, "and you have seen Abraham!"

"I tell you the truth," Jesus answered, "before Abraham was born, I am!"

At this, they picked up stones to stone him. – John 8:56-59, emphasis mine
Why did the Jews react this way? Because in their minds what Jesus said was blasphemy. To them, he was identifying himself as Jahweh, the I AM, the holy God who appeared to Moses in the burning bush.

Listen to how Eugene Peterson presents this passage in "The Message:"
"Abraham – your 'father' – with jubilant faith looked down the corridors of history and saw my day coming. He saw it and cheered."

The Jews said, "You're not even fifty years old – and Abraham saw you?"


"Believe me," said Jesus, "I am who I am long before Abraham was anything."

That did it – pushed them over the edge. They picked up rocks to throw at him. But Jesus slipped away, getting out of the Temple.
Faith is a phone booth in the "Matrix," an exit from the dead-end reality of time and space. Faith "looks down the corridors of history." Close your eyes and imagine this: silver-haired Abraham – maybe he looked a little like Gandalf in "Lord of the Rings" – flying at warp speed through a tunnel of time. It's like he's in a five-star sci-fi film with outrageous sound and special effects. Can't you just hear the whooshing and whining and whirring as Abraham's faith rockets him through "the corridors of history" into the future?

Believers see a sign. Unbelievers see nothing. – Dietrich Bonhoeffer
Think for a moment about the unique relationship among these words: faith, seeing, and provision. What does it mean that God provides, that God pro-vides? This familiar English word is derived from a Latin root that means, literally, "to see in advance"! (In other words: pro-vision, or fore-sight.) The Hebrew term jireh is a similar convergence of meaning: in the Abraham-Isaac narrative of Genesis, it's translated, "The Lord will provide," while in Joshua 3:11, the same root word reads, "See!"

Believing is seeing.

Faith sees.

By faith you see what you can't see, and faith releases the pro-vision (the vision ahead) of God for your future. For the believer, faith is reality.

"See, the ark of the covenant of the Lord of all the earth will go into the Jordan ahead of you." The ark, the resting place of the radiant cloud of God's glory, goes ahead of us into the floods of life. Because the radiant presence of Jesus goes before us into the mess of our circumstances, he can rightfully say to us about the future, "Been there, done that." It's incredible! God goes into the flooded river first. Can you see him there, waiting for you to enter his reality?

THE LIFE

Jesus is the pathway to wholeness, a journey of daily encounters with God. Jesus is the truth, that is, ultimate reality. Jesus is the life. Notice the perfect sequence:
Journey (Way), Reality (Truth), Wholeness (Life)
When we hold Christ's hand as we travel through life, we encounter and experience his reality – the reality. When Jesus is my way, my journey, he takes me into the reality of God and brings the reality of his kingdom into me. This is life, abundant life! The convergence of our journey with the way of Christ into the ultimate reality of God is life.

Anything less than God will let you down. Anything less than God is not rooted in eternal reality. It has built-in failure. – E. Stanley Jones

Jesus said, "I came so they can have real and eternal life, more and better life than they ever dreamed of." Not surprisingly, this is the great American dream: "life, liberty, and the pursuit of happiness." What the fathers of our nation had in mind when they wrote this memorable phrase was most certainly not what most of us think regarding the pursuit of happiness in the twenty-first century! For us, it's become the restless quest for something (or some things) to give us a sense of wholeness and meaning. It's the age-old human search for significance, but we just "can't get no satisfaction." Not in wealth, health, sex, or success.

When our life-focus drifts from God to anything else, when we devote ourselves to what we think will bring us happiness, we end up worshiping gods of our own making. It's idolatry, pure and simple. As we bow down, we discover painfully that our gods have no power to satisfy us, let alone heal us and make us whole. They do, however, have the power to control us, even to enslave us.

In contrast, listen to this extraordinary ancient promise: "[The Lord] will be the sure foundation for your times." In other words, you'll have a deep sense of peace and safety, no matter where the journey of life takes you, because the Lord will be "a rich store of salvation and wisdom and knowledge; the fear of the Lord is the key to this treasure." Jesus echoes these words in the Sermon on the Mount:
Do not worry, saying, "What shall we eat?" or "What shall we drink?" or "What shall we wear?" For the pagans run after all these things [the pursuit of happiness], and your heavenly Father knows that you need them. But seek first his kingdom and his righteousness, and all these things will be given to you as well. – Matthew 6:31-33
Why, then, are you afraid to take up your cross, which leads to the kingdom? In the Cross is salvation; in the Cross is life; in the Cross is protection from enemies. In the Cross is infusion of heavenly sweetness; in the Cross is strength of mind; in the Cross is joy of Spirit. In the Cross is height of virtue; in the Cross is perfection of sanctity. There is no ... hope of eternal life, but in the Cross. – Thomas à Kempis
Be assured that Jesus came so you "can have real and eternal life, more and better life than you ever dreamed of." Jesus is the way (the journey) and the truth (ultimate reality) and the life (wholeness) you've always wanted.

FOR REFLECTION AND DISCUSSION

What is your reality? What shapes how you think, how you feel, how you make decisions, how you live your life? In some ways, the realities of the Matrix are more appealing than the real world Neo discovers when he swallows the red pill. Read 1 Corinthians 3:18 and Hebrews 11:24-26. In light of what you've learned in this chapter, what aspects of your life are stuck in the matrix of time and space? Seek opportunities to discuss this with your family and friends.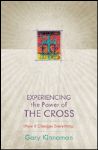 Excerpted from "Experiencing the Power of the Cross: How It Changes Everything" by Gary Kinnaman.  Copyright © 2005; ISBN 076422994X  Published by Bethany House Publishers.  Used by permission. Unauthorized duplication prohibited.

Gary Kinnaman is the senior pastor of Word of Grace Church, near Phoenix. He has been instrumental in planting several other churches in Arizona, is a frequent speaker on leadership and church growth at national and international conferences, and has written several books, including the bestseller "Angels Dark and Light." Gary and his wife have three adult children and make their home in Arizona.