The Best Books for Christian Women in 2014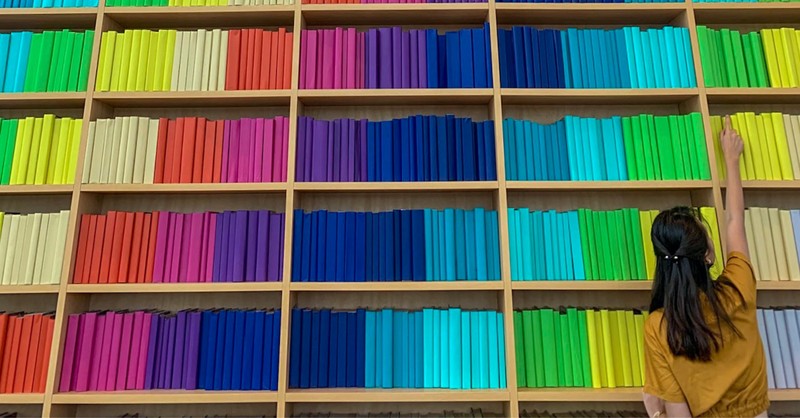 2014 was a fantastic year for books! We asked our iBelieve bloggers and writers to share their favorites with us, and we recieved a great response--everything from moving memoirs to poignant fiction to helpful studies on how to strengthen your walk with Jesus. We hope you love these books as much as we do- and be sure to share your favorites with us in the comments!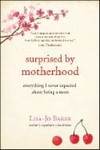 1. Surprised by Motherhood by Lisa-Jo Baker "If you are a mom who feels you won't survive one more dirty diaper, one more frivolous sibling squabble, one more "Mom? Mom! Mo-oomm!!" then Lisa-Jo Baker's new book, Surprised by Motherhood: Everything I Never Expected About Being a Mom, was written just for you. Surprised By Motherhood is not a "how-to" parenting book. It's a "me too" book. It is one woman's story, told in profound, raw beauty. The journey of a woman who pushed against the notion of motherhood, then slowly, gradually, not only grew into motherhood with the familiarity of a favorite pair of jeans, but now sees those spit-up-stained jeans as standing on holy ground." - Kate Motaung, iBelieve feature writer, blogger and author of the e-book, Letters to Grief.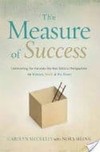 2. The Measure of Success: Uncovering the Biblical Perspective on Women, Work, and the Home by Carolyn McCulley and Nora Shank "The Measure of Success wasn't the Mommy Wars book that I expected it to be but, thankfully, provided more of an overarching biblical and historical view on women and work. The main premise is that all women work and that we should be ambitious to work for the glory of God. McCulley and Shank drew my eyes away from current cultural connotations of women and work and helped me think of myself and other women in a more grace-filled way in regard to work, passions, and choices." - Christine Hoover, iBelieve feature writer and author of The Church Planting Wife

3. #BEMORE by Sandi Krakowski "There are books—and then there are life-changers with cover art. #BEMORE: 77 Secrets to Your Powerful Life is not only relatable and relevant for women everywhere, but Sandi has mastered the delicate balance of TLC, tough love, and pure inspiration! Reading #BEMORE, you will be more hope-filled and faith-filled about what God can do in your life—even if your circumstances today are trying to tell you otherwise." - Rebecca Halton, iBelieve feature writer and author of Words from the Other Woman: The True Account of a Redeemed Adulteress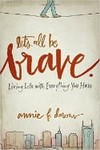 4. Let's All Be Brave: Living Life with Everything You Have by Annie Downs "As a fellow single gal and Georgia native, Annie's book spoke right to my heart. It was released in July of this year and was a God wink for me while delivered to my doorstep at just the right time. Annie's candor and description of her life's trials and moments of bravery gave me a newfound surge of confidence and braveness too! Her humor and transparency give realness to her writing voice and I couldn't put the book down until it was done. I bet you won't either." - Mandy Smith, iBelieve feature writer and blogger at My Joyous Heart.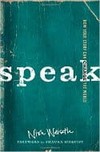 5. Speak: How Your Story Can Change the World by Nish Weiseth "This book was so inspirational to me as a writer. Many times you want to share life events with readers but you may feel a quick sense of hesitation as to if you should. Nish's book was full of examples of people being honest with each other and the wonderful ways that God worked through their courage for each other's good. It encouraged me to continue my own writing dreams while pursuing transparency. You just never know what God can do through your story." - Mandy Smith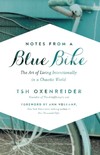 6. Notes From a Blue Bike by Tsh Oxenreider "Tsh takes you on a journey from the US to Turkey and back again. This book connected with me because Tsh's life is not simple, it's chaotic and busy, but it's intentional. I found the book was practical and it changed the way I view food, travel and dressing." - Wendy van Eyck, iBelieve feature writer and blogger at I Love Devotionals.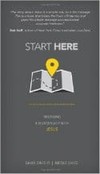 7. Start Here by David Dwight and Nicole Unice "This book was written by two people on staff at my church whom I respect, love and admire. It's a book about "beginning a relationship with Jesus," full of simple and honest answers about the real questions of faith. Stories from real people throughout the chapters remind us we aren't alone in the searching and seeking. This book is like a road map for new believers and a refreshing read for seasoned believers, too. If you're wondering where to start or if you have a lot of questions about Christianity, this is the book for you." - Rachel Dawson, iBelieve feature writer and Story Seeker.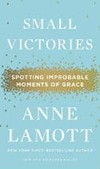 8. Small Victories by Anne Lamott "Anne's writing is a breath of fresh air-- I laughed out loud at her self-deprecating humor and appreciated her honesty about the reality of life and faith as she shared her thoughts and experiences on some of the best and worst of it all. She feels like that best friend you can count on to crack you up while also giving you a swift kick in the pants as she points you back in the right direction toward Christ, all in her honest, frank, wise and witty way. A must-read collection of essays and stories." - Rachel Dawson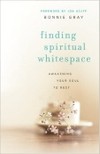 9. Finding Spiritual Whitespace: Awakening Your Soul to Rest by Bonnie Gray "This is a soul-stirring book that takes you on a journey to make space in life to nurture your heart with God and dream dreams in new ways. This book will give women permission to yes to God, practical ways to say yes to rest and find the spark in their hearts again." - Kelly Givens, editor of iBelieve.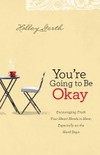 10. You're Going to Be Okay by Holley Gerth "If you're looking for a life-coach in a book when times are tough, there is encouragement to lift your hearts in Holley's newest book. Her words gave me courage to believe what I knew in my head, but was too afraid to believe in my heart. If you're looking for a book to encourage your heart, Holley's words will be your friend through these pages and on her blog, Heart to Heart." - Bonnie Gray, iBelieve feature writer and author of Finding Spiritual Whitespace.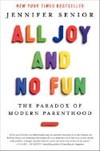 11. All Joy and No Fun by Jennifer Senior "Why are parents -- especially mothers -- so much more stressed out these days than they were a generation or two ago? Is all of our anxiety and activity around child-rearing actually productive? And does it matter whether we find happiness and fulfillment as parents, or not? This wise and well-crafted look at contemporary American parenting invites parents to ease up on themselves and also to look beyond self-fulfillment in parenting." - Maria Miriam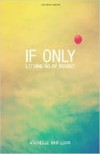 12. If Only: Letting Go of Regret by Michelle Van Loon "How many of us, on a regular basis, look back on our stories and imagine other endings..."if only I had___" (fill in the blank.) In this wise and gracious book, Michelle Van Loon gently invites us to release our hold on sins, failures, and plain old mistakes in our pasts in order to live fully and joyfully into the life God offers us." - Maria Miriam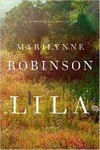 13. Lila by Marilynne Robinson "If you've been scalded, touch hurts -- even when it is kindly meant. For Lila Dahl, a woman who has often been cold, lonely, and hungry, finding refuge in the love of her gentle husband, John Ames, in the fictional town of Gilead, Iowa, is as disorienting and difficult as making sense of the tricky parts of the Bible and Christian faith. A beautifully written and haunting tale of unlikely love -- both human and divine." - Maria Miriam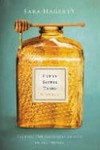 14. Every Bitter Thing is Sweet by Sara Hagerty "If you are looking for encouragement through hard times, then this faith-inspiring memoir will speak to your heart. I felt motivated to reach for God as I saw Sara strain for God through her tears. I was inspired to enter into an increasingly intimate conversation with our Creator as I saw Sara do the same - and as I saw God subsequently lift her up. In the pages of her book, readers will discover the great lengths God will go to to be faithful and answer prayers." - Noelle Kirchner, iBelieve and (in)courage feature writer and blogger.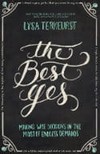 15. The Best Yes: Making Wise Decisions in the Midst of Endless Demands by Lysa TerKeurst "Lysa's book equips women to streamline their schedules by putting God first. If you struggle with over commitment, reach for this book to encourage you to wisely navigate the decision making process. The outcome is a more fulfilling and inspired daily life that is rooted in pleasing God first, not people." - Noelle Kirchner
What do you think? What books resonated with you this year? Add your favorites in the comments below!
Related Posts:
The Best Books for Christian Women in 2013
Photo credit: ©Agustin Gunawan/Unsplash