Crosswalk's Most-Viewed Videos of 2011
Compiled & Edited by Crosswalk Editorial Staff

2011

19 Dec

COMMENTS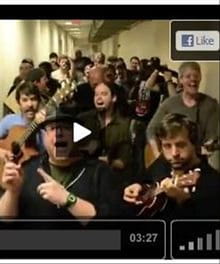 Midway through 2010, Salem Web Network (parent company to Crosswalk.com) made a couple of huge moves: acquiring GodTube.com, and hiring a full-time, on-site Audio/Video Editor!
Since then, we've been all about the creative possibilities behind Christian video content, both user-generated and house-produced, with 2011 being our first full year of providing an abundance of videos.
You can always check out the latest in Christian music, comedy, ministry, inspiration, apologetics, and questions of faith here. In the meantime, here are the videos you enjoyed the most in 2011...
1 Wrong Worship (posted by 'inspiredfaith' on GodTube.com)
2 We Can't Afford to Get it Wrong (posted by 'davidccook' on GodTube.com)
3 11-Year-Old Proclaims Jesus in Every Book of the Bible (posted by 'kidsarecute' on GodTube.com)
4 The Shallow Small Group (posted by 'alegator21' on GodTube.com)
5 Tim Tebow's Faith (by Crosswalk.com Editorial Staff)
6 Ob-La-Di, Ob-La-Da! (posted by 'mercymemusic' on GodTube.com)
7 Testimony of Actor Wes Bentley (posted by 'motiveentertainment' on GodTube.com)
8 Bethlehemian Rhapsody (posted by 'darlamasonrobinson' on GodTube.com)
9 Casting Crowns' Courageous (posted by 'providentfilms' on GodTube.com)
10 Mary Kassian Cautions Readers about NIV 2011 (by Christianity.com Editorial Staff)