North Korean Believers Face Uncertain Future
Open Doors USA

2011

19 Dec

COMMENTS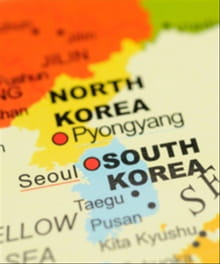 SANTA ANA, Calif. (Dec. 19, 2011) – On Sunday evening it was announced that Kim Jong-Il, the leader of North Korea, had died. North Korean news agencies reported that Kim Jong-Il had died of fatigue from "overworking to serve the people of North Korea." Kim Jong-Il was 69 years old.
Because of possible ramifications of his death for North Koreans and the entire world, Open Doors is calling for prayer for the country and the suffering Christians who live there.
"Today marks a significant day in North Korean history," says Open Doors USA President/CEO Dr. Carl Moeller. "Though this brutal dictator, who was responsible for so many atrocities, has died, the future is still unknown. Some speculate that his son Kim Jong-Un will be just as cruel to all dissenters. Others suggest that he may be more lenient. We simply do not know the future of North Korea, but God does.
"This is why it is vital that Christians around the world pray for North Korea during this transitional time. Pray especially for the brave Christians inside North Korea. They are fearful that they might face even more suffering. There are an estimated 50,000 to 70,000 Christians being held in North Korean prison camps where they face even more horrific treatment than other prisoners. People are starving to death. The people of North Korea are living a nightmare that never ends."
For the past nine years, North Korea has held the No. 1 spot on the Open Doors World Watch List. The list ranks the top 50 countries which are the worst persecutors of Christians. The 2012 World Watch List will be released on Jan. 4 with North Korea expected to retain the top spot.
In North Korea, any form of worship to anyone other than the "Great Leader" (Kim Il-Sung) and the "Supreme Leader" (Kim Jong-Il) is seen as treason. North Korean Christians are often arrested, tortured or even killed for their faith in Jesus Christ.
"It is very unlikely that there will be any policy changes," says Simon, Open Doors' main contact for Christians inside North Korea. "In fact, since Kim Jong-Un came closer to the helm, North Korea has stepped up its attempts to uncover any religious activities. There have been more house raids, more spies trained to infiltrate religious and human rights networks and one South Korean Christian who was murdered in China because he helped refugees. Christians fear what Kim Jong-Un capable of doing. He will do anything to keep hold of power."
Brother Simon adds: "North Korea is the first communist country that has established a real dynasty. The rule has been transferred to the third generation, but there is a big difference from the previous succession. Kim Il-Sung had the support of the entire communist bloc. Kim Jong-Il had been preparing for his role for over 20 years before he had to assume power. Kim Jong-Un was only designated as the next leader in October 2010 during a rare Worker's Party Congress. He is young and inexperienced. There may be a power struggle, which he may not win. On the other hand, the clique around the Kims has been able to hold the ropes for over six decades. They have made it very difficult for opponents to get organized. Something special is needed to topple the regime."
A North Korean Christian refugee in Seoul, South Korea, told Open Doors that she had mixed feelings when she heard the news of the death of Kim Jong-Il.
"I always thought I'd be happy when he was dead. I hated him but God taught me to love my enemies. My North Korean friends react in different ways. One is angry and says: 'He should have died like Moammar Gadhafi [former Libyan dictator killed several months ago].' Another is relieved: 'Congratulations! Now the Koreas will become one nation soon.' To be honest, I don't see that happening very quickly. Even if the 'absolute power' has died, the generals and other rulers will do their very best to keep control."
According to Open Doors sources, North Korea has closed the borders and sealed off the usually tolerated black markets. Security agents and police officers are seen on every street and alley. The sound of wailing people is being heard throughout the country.
Brother Simon concludes: "We hope 2012 will see real change politically and economically, but especially in freedom to believe. We pray for freedom for all citizens so that they may be free to live how they want and allowed to believe what they want. We want those prison camps to open up so we can embrace our brothers and sisters in Christ who have suffered there under terrible circumstances."
Open Doors secretly trained over 4,000 Christians and gave emergency aid (food, clothing and other goods), to 56,000 North Korean Christians in 2011. Open Doors distributed more than 30,000 Bibles, books and other materials in North Korea. Additionally, Open Doors formed a network to help train North Korean defectors and believers living along China's border areas.
An estimated 100 million Christians worldwide suffer interrogation, arrest and even death for their faith in Christ, with millions more facing discrimination and alienation. Open Doors supports and strengthens believers in the world's most difficult areas through Bible and Christian literature distribution, leadership training and assistance, Christian community development, prayer and presence ministry and advocacy on behalf of suffering believers. To partner with Open Doors USA, call toll free at 888-5-BIBLE-5 (888-524-2535) or go to our Website at www.OpenDoorsUSA.org.
Publication date: December 19, 2011