Married Olympic Figure Skaters Demonstrate How Faith Helped Them through Adversity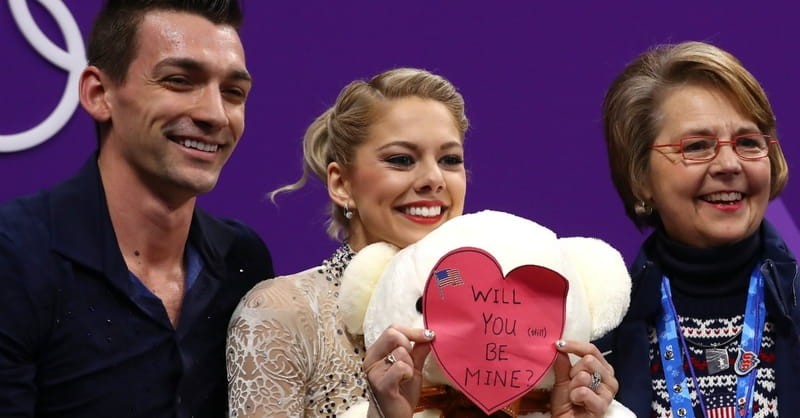 Just two years ago, Chris Knierim had to hold up his wife, Alexa, because her body was not capable of standing on its own.
Last night, Chris twirled Alexa high into the air as the Olympic figure skaters competed for Team USA on Valentine's Day in PyeongChang in what one television commentator called a "miracle performance."
"We are just so happy to be alive together and to skate together and to have our dream of making the Olympics come true," Alexa told NBC News.
The Knierims began skating together in 2012 and married in June 2016.  However, just two months after their wedding, Alexa was diagnosed with a rare and potentially deadly gastrointestinal condition.
They immediately withdrew from all skating events, and she endured three separate surgeries.  The 5-foot-2 Alexa said she lost more than 20 pounds and all her muscle and body mechanics.
Their skating days appeared to be over.
Adversity is always unexpected and unwelcomed.
However, adversity can become the means through which God demonstrates His supernatural power through our lives.
Scripture is full of examples of people who faced adversity, and afterward, discovered God had worked through their circumstances to bring about good in their lives:
- Joseph was betrayed, enslaved, and imprisoned before becoming second in command to Pharaoh.
- Moses was a fugitive for forty years before God called him to lead the children of Israel out of Egypt.
- David was on the run from King Saul before God made him King of Israel and in the Messiah's lineage.
- Esther was an exiled Jew until God elevated her to the queen of Persia and helped her save the Jews from annihilation.
- Daniel became a captive in Babylon as a teenager but was promoted to key roles in the government.
- The disciples suffered persecution, but God used them to go and make disciples of all nations.
– Mary and Martha mourned the death of their beloved brother before seeing Jesus raise him to life.
Paul, who suffered persecution at Antioch, at Iconium, and at Lystra, penned these words found in Romans 8:18:
"I consider that our present sufferings are not worth comparing with the glory that will be revealed in us."
If only we could keep that perspective amid adversity. If you're like me, when life doesn't meet your expectations, you probably respond to God in one of two ways:
You either walk away from God, or you draw closer to Him.
For the Knierims, they chose the latter.
Alexa said, "When my body was at my weakest, my faith was at its strongest."
Now the duo says the Olympics is an opportunity to "glorify God."
Though last night was not their best performance, the Knierims have helped Team USA win a bronze medal.
They are a great reminder that while athletes go into strict training for a "crown" that will not last, the Bible speaks of crowns that do last forever (1 Corinthians 9:25).
If you are enduring adversity today, I pray God you will draw close to God and let Him do a supernatural work through you:
"Blessed is the man who remains steadfast under trial, for when he has stood the test, he will receive the crown of life, which God has promised to those who love him" (James 1:12).
Laura Lacey Johnson is a cutting-edge faith and culture writer who focuses on everyday headlines. In addition to speaking, she is a columnist for Christian Headlines.com. To read Laura's latest work on the headlines, visit www.lauralaceyjohnson.com, or to download your FREE copy of Why Jerusalem is Important to 3 World Religions, subscribe to her blog here.
Photo: Alexa Scimeca Knierim holds up a valentine alongside Chris Knierim of the United States after their routine during the Pair Skating Short Program on day five of the PyeongChang 2018 Winter Olympics at Gangneung Ice Arena on February 14, 2018 in Gangneung, South Korea.
Photo courtesy: Dean Mouhtaropoulos/Getty Images
Publication date: February 14, 2018