Kaepernicking Replaces Tebowing
Marvin Olasky

Editor in Chief, WORLD Magazine

2013

17 Jan

COMMENTS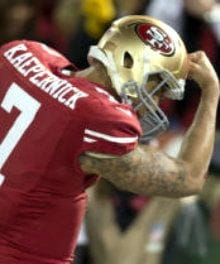 (WNS) -- The Associated Press declares that Colin Kaepernick, who quarterbacked the San Francisco 49ers to a playoff win over the Green Bay Packers on Saturday, "is quickly becoming a household name, and his touchdown celebration—flexing his right arm and kissing his biceps—is trending all over social media. Tebowing? No, call it Kaepernicking."
Tim Tebow's thanks-be-to-God posture after touchdowns is out, Kaepernick's thanks-be-to-self demonstration is in. Tebow deflected genuflections to him and said all credit goes to God. AP quoted San Francisco running back LaMichael James saying about Kaepernick, "All the credit goes to him."
I have nothing against Kaepernick, who has strong legs and a strong right arm: He played a great game. Tebow also has strong legs but not that strong and accurate an arm—but he led Denver to some great comebacks last year. Now, after a year in which the New York Jets acquired him and then weirdly left him on the shelf, "Tebow is on the side of the road holding a 'Will QB for Food' sign."
That's how AOL columnist David Whitley put it, adding, "Millions love to love him. Millions love to hate him. … I never got why people so resented such a clean-living prince of a young man. But they did, and the cultural divide made Tebow perfect cannon fodder for today's media machine."
ESPN's James Walker similarly asked, "Will Tim Tebow be out of the NFL entirely next season? That notion isn't as far-fetched as you might think. The Jacksonville Jaguars, a team reportedly linked to Tebow, said this week that they have no interest in acquiring the hometown favorite. That does not bode well for Tebow's NFL future."
Is Tebow good enough to be a long-term NFL quarterback? I have no expertise here, and the answer may be no, but former New York Jets special teams coach Mike Westhoff put it this way during an interview with WQAM in South Florida: "If you incorporate him in different facets of your offense, I think he can be a factor. That's what I felt we were going to do, but we never did it."
"Teams are apparently concerned that Tebow's fame will be a "distraction," but—let's face it—sports teams are in the circus business. Normally, they want publicity: The 49ers are already making Kaepernick the face of the franchise. Why not Tebow? And as far as his football skills, he was not long ago a first-round draft choice. Both in college and in the NFL he has shown the ability to come through in the clutch.
Two caveats: First, I'm not saying that Tebow is a model for all Christian athletes—many love and honor God without being publicly demonstrative. Second, I don't want to say the lack of interest in Tebow among NFL teams indicates a general anti-Christian bias, because the prime theology among many owners and coaches is a desire to win.
I am saying that an anti-distraction bias by itself doesn't explain Tebow's exile: It will be a great mystery if none of the 32 NFL teams wants him. I'm also saying that worship of Man rather than God is now our national religion: Kissing your own biceps is more acceptable than bowing before our Creator.
Marvin Olasky is the editor-in-chief of WORLD Magazine.
Publication date: January 17, 2013