Trusting God in the Darkness
Tony Evans
Saturday, April 30, 2005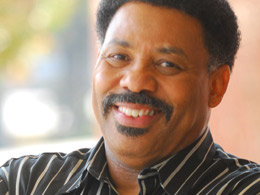 Many of us are currently walking through life confused, weary, tired, frustrated, lost, and perhaps a little bit afraid. The prophet Habakkuk could relate. He was a little confused too, and he had some questions for God that we can understand. He asks: "How long, oh LORD, will I call for help?" (Habakkuk 1:2). He felt that God was taking too long to come through for him. Have you ever felt like that? You believe God, but He sure is moving slow in your life! Not only that, but God's movements were confusing to Habakkuk. In fact, God responds to his question: "Look among the nations! Observe! Be astonished! Wonder! Because I am doing something in your days--you would not believe if you were told" (v. 5). Habakkuk could not understand what God was doing. In this particular prophesy God gave Habakkuk, God was going to raise up an evil people called the Babylonians who would discipline His people, the Israelites. Habakkuk does not see how God can do this: "Your eyes are too pure to approve evil, and You can not look on wickedness with favor. Why do you look with favor on those who deal treacherously? Why are You silent when the wicked swallow up those more righteous than they?" (v. 13). In other words, Habakkuk is saying it's not fair to let wicked people triumph over God's people.
We Question
Habakkuk thinks God is slow to act, hard to understand, and unfair in His actions. We're not the only ones who think these thoughts about God sometimes! It's hard to admit these thoughts because it makes us sound so unspiritual. But in our heads, these thoughts pop up. We believe God and the things He says, but there are times that real questions come into our minds. The good news is we aren't alone. Scripture tells us that Habakkuk faced many of the questions and fears that we are familiar with.
The book of Habakkuk starts out in a pit, but we'll see that it ends up on a peak. Physically, Habakkuk is a wreck: "I heard and my inward parts trembled, at the sound my lips quivered, decay enters my bones, and in my place I tremble" (3:16). He is falling apart, unraveling.
Do you feel like you are unraveling? Maybe you are facing chaos at home, at work, everywhere in your life. Maybe you're ready for a change, ready to put the past behind you, but a little scared of what the future holds. That was Habakkuk's problem. And he had to "wait quietly for the day of distress, for the people to arise who will invade us" (3:16). The future looked dim and he wasn't excited about it! But look carefully at the next three verses and what they express about Habakkuk's faith: "Though the fig tree should not blossom and though there be no fruit on the vines, though the yield of the olive should fail and the fields produce no food, though the flock should be cut off from the fold and there be no cattle in the stalls, yet I will exult in the LORD, I will rejoice in the God of my salvation. The Lord GOD is my strength. He has made my feet like hinds' feet, and makes me to walk on my high places" (3:17-19).
p> You see, from a worldly standpoint, there are three ways you can look at negative situations. One way is to resign yourself to the situation, thinking that's just the way it's going to be. The second way to deal with negative situations is detachment. In other words, people distract themselves so they don't have to think about their problems. Detachment doesn't solve anything; it just keeps problems under the surface. The third way people deal with struggles is with bravado, which means you "take it like a man." You hold your chin up and handle the situation with sheer determination. The only problem with this is that it never lasts-pep talks can only get you so far.
We Believe
So the question we must ask is what do we as Christians do when we face problems or uncertainties, or when it seems that God is taking too long, or our struggles are too big to handle? Habakkuk shows us how he handles it: "I will exult in the LORD" (v. 18). He says, "Even though I have my questions and confusion and I don't see the first solution in sight, I am going to exult in the Lord. I am going to trust in the reliability of God, even when I can't see Him or what He is doing." Habakkuk chose to trust God, to believe God, even in the darkness.
Have something to say about this article? Leave your comment via Facebook below!
advertise with us
Example: "Gen 1:1" "John 3" "Moses" "trust"
Advanced Search
Listen to Your Favorite Pastors