KJ-52: The Man Behind the Musik
Gregory Rumburg, CCM Magazine
Tuesday, May 23, 2006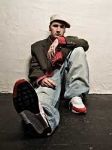 "I learned a lot from my dad, from his ability to relate to so many different types of people. And even though I was the only white kid, I never stopped to think [about it]," he says.
Around the age of 12, KJ, like most middle-school-aged youth, longed to fit into a crowd, something that had eluded him as he shuttled between Ebor City, where his dad still lived, and Tampa's suburbs, where his mom had started a new life. And like some youth, that grasping for acceptance drove the pre-teen toward unhealthy habits. He went from being an A student to fielding D's and F's. Spiraling out of control, KJ got into the party scene, getting drunk and chasing girls, and ran away from home twice. Two influences helped propel him out of the chaos.
First, KJ latched onto hip-hop, from the more positive work of Kid 'N Play and Rob Base & DJ E-Z Rock to the more militant tracks of Public Enemy and Boogie Down Productions. "So much of it was about empowerment," he explains, "and I think maybe there was a part of me that really wanted that." Inspired, KJ tackled "The Autobiography of Malcolm X" for a school book report — not exactly light reading.
At 15, empowerment came from a different angle, thanks, in part, to a summertime conversation KJ had about God with his cousin. Christianity was largely foreign to the teen; the circumstances of his life wooed him to flirt with atheism. But later that summer, after KJ moved with his mom and stepfather to Cape Coral in southwest Florida, KJ's mind eased into the idea that God wasn't as capricious as He had seemed. Soon, KJ found a local Top 40 radio station playing hip-hop and another airing a slate of broadcast ministries such as Focus on the Family, Charles Stanley and Adrian Rogers of "Love Worth Finding" notoriety.
One night, listening to Rogers, KJ's heart responded. "I got down on my knees in my bedroom and asked Christ into my life," he says. He soon joined a local church, and, "Once I got a Bible, I read through it in six months. I was that hungry." Eventually KJ swapped mainstream hip-hop for the work of pioneering Christian acts such as Dynamic Twins, SFC and PID — a legacy he's proud to continue today.
So, with the long winter of his music career behind him and spring's new beginnings rooted and thriving in "Behind the Musik," the cusp of summer presents a good time to take stock, consider the ground covered — but never slow down. "KJ-52 Remixed" released last  month with 14 songs from the artist's four previous projects, including "Are You Real" and "Dear Slim Part 2," an epistle to Eminem and a chapter of the widely reported, but largely misunderstood, squabble between the rappers. Two other songs, "Napoleon Dynamite" and "Washed Up," were previously only available on a limited-edition project. For the first time, KJ worked as his own producer on the preponderance of the record.
"I think I'm at the best point I've ever been at. It's funny because sometimes I think, I turn 30 this year, so what am I doing still rapping?" he laughs. "But I really feel like I've hit my stride. I feel like I'm in the best place I've ever been in."
There's an Oscar-winning song popular today … can't quite remember the hook, but it's something like, "It's hard out here eatin' shrimp." And if anyone can relate to how hard it is to eat shrimp in a meat-and-potatoes kind of world, it's a white rapper from Florida.
"I know all my criticisms," KJ says. "At the end of the day, I make music for my God and my fans, and that's it. The more I read the Word, the more I realize God has the habit of picking some very unusual people to work with." A battle the soul's determined to win.


© 2006 CCM Magazine.  All rights reserved.  Used with permission.   Click here to subscribe.


 
Have something to say about this article? Leave your comment via Facebook below!
advertise with us
Example: "Gen 1:1" "John 3" "Moses" "trust"
Advanced Search
Listen to Your Favorite Pastors