Journey with Jesus: Do As I Have Done
K.P. Yohannan, Gospel for Asia
Thursday, November 18, 2004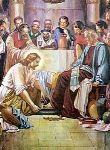 In John 13, we see the beautiful place of humility the Son of God took before His own disciples. The passage reads:
It was just before the Passover Feast. Jesus knew that the time had come for him to leave this world and go to the Father. Having loved his own who were in the world, he now showed them the full extent of his love. So he got up from the meal, took off his outer clothing, and wrapped a towel around his waist. After that, he poured water into a basin and began to wash his disciples' feet, drying them with the towel that was wrapped around him.  When he had finished washing their feet, he put on his clothes and returned to his place. "Do you understand what I have done for you?" he asked them. "You call me 'Teacher' and 'Lord,' and rightly so, for that is what I am. Now that I, your Lord and Teacher, have washed your feet, you also should wash one another's feet. I
have set you an example that you should do as I have done for you" (John 13:1,
4–5, 12–15, NIV).
In the Asian culture, it is difficult to even grasp this kind of event taking place! A
master stooping down to wash his servants' feet?! Only slaves do that! Yet here we see the Creator of the universe, the Lord of lords and the King of kings who became the Son of Man, bending down to wash the dusty feet of His disciples.
Everywhere you travel across this world, you will find people driven to exalt themselves, some in a blatant manner and some in subtle ways, but all somehow driven to be recognized and known. But in John 13, we see the exact opposite happening. The One who, above all else, should be exalted, here is stooping low.

And not low before powerful kings and rulers, but before ordinary men— His own disciples—men rough around the edges, feet worn and dusty from days of travel. All for one reason: "I have given you an example, that you should do as I have done to you" (John 13:15, emphasis mine).
In the early years of my serving the Lord, I struggled with this inner desire to be recognized and esteemed, as I'm sure many of us do, even in Christian service. However, this should really have no place in the life of the child of God. When we behold Christ and realize the example He has given us, our lives and our pride should immediately bow—not just because of what was done, but because of who did it! If the Son of God could humble Himself before His disciples, how can I not humble myself in dealing with my brothers and sisters?

Every situation that comes in our lives in which we feel that inner urge to fight for our way needs to be seen as an instrument of God to shape us into a humble servant. As we choose to bow low, just like Jesus, we begin to mirror Him. And each day  becomes more and more, "He must increase . . . I must decrease" (John 3:30).
Consider the position that 1 Peter 5:5–6 (NIV) tells us to take: "All of you, clothe yourselves with humility toward one another, because, 'God opposes the proud but gives grace to the humble.' Humble yourselves, therefore, under God's mighty hand, that he may lift you up in due time." Oftentimes when we read this verse, we think the part that says, "He will lift you up" automatically means positions, titles, degrees or recognition. But this is far from what Christ meant. Humility cannot be used as a stepping stone to personal promotion. It is a dangerous thing for those in the Lord's service to live with the secret desire to be recognized, feel important, "climb the ladder" or be esteemed and rewarded by men.
Recently on Spiritual Life
Have something to say about this article? Leave your comment via Facebook below!
advertise with us
Example: "Gen 1:1" "John 3" "Moses" "trust"
Advanced Search
Listen to Your Favorite Pastors