Never Read a Bible Verse
Gregory Koukl, Founder and President, Stand to Reason
Tuesday, June 26, 2012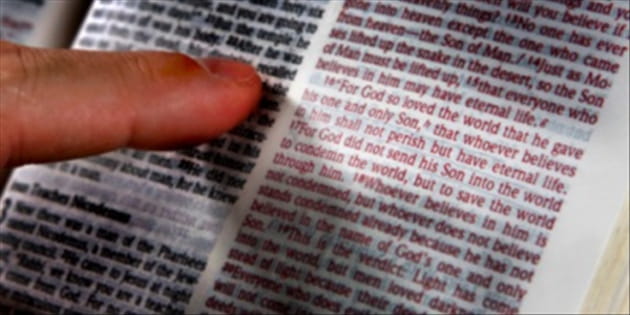 vs.
Put on a heart of compassion, kindness, humility, gentleness and patience; bearing with one another, and forgiving each other, whoever has a complaint against anyone; just as the Lord forgave you, so also should you. And beyond all these things put on love, which is the perfect bond of unity. And let harmony, not conflict, be the rule that guides you, to which indeed you were called in one body; and be thankful.
The first is completely foreign to the context; the second fits right in with everything that comes before and after. In the context of Colossians 3, there is no hint of using internal feelings as a divine stamp of approval on our decisions. Personal decision-making is not the point of the paragraph. Harmony and unity in the Body is.
"If I Be Lifted Up"
John 12:32 is another case where a phrase can have two widely divergent meanings. It's not uncommon for worship leaders to quote this statement of Jesus: "And I, if I be lifted up from the earth, will draw all men to Myself."
We "lift up" the Lord when we exalt Him and declare His glory. If we focus on Jesus and ascribe glory to Him, the power of Christ is released to transform the hearts of those listening and they are drawn to Him. This is the meaning the worship leader has in mind, but it isn't what Jesus is talking about.
When we apply our paraphrase test by adding the very next verse, the results look like this: "'And I, if I be exalted before the people, will draw all men to Myself.' But He was saying this to indicate the kind of death by which He was to die" (John 12:32-33).
Oops. Praising Jesus will kill Him? I don't think so. No ambiguity now. In this instance, being "lifted up" clearly means to be crucified.
Understanding this phrase in context sheds light on another familiar passage, John 3:14-15: "And as Moses lifted up [raised in the air] the serpent in the wilderness, even so must the Son of Man be lifted up [raised in the air] that whoever believes may in Him have eternal life."
Our paraphrase looks like this: "And as Moses lifted up the serpent in the wilderness, even so must the Son of Man be crucified that whoever believes may in Him have eternal life."
This makes perfect sense. Jesus had to be crucified before salvation could be offered, an appropriate lead-in to the verse that comes next, the most famous salvation verse in the world: John 3:16.
Let's try another.
"My Sheep Hear My Voice"
Many have taken this statement by Jesus in John 10 to refer to the Christian's acquired ability to "hear" God's personal instructions to him. "Hearing God's voice" is advocated as a very useful skill that aids optimal Christian living. Allegedly, this is a learned ability one gains as he matures in Christ. It enables him to sense Jesus' will in any given situation as he "hears" Jesus' voice.
Jesus has nothing like this in mind, though. I know because of the context surrounding the verse and a key clarification John himself gives early in the chapter. In verse six, John explicitly states that when Jesus speaks of His sheep "hearing His voice" He is using a figure of speech.
The word "voice," then, can't actually mean some kind of inner voice because a thing is never a metaphor of itself. It's a picture of something else. Jesus must be referring, in a figure, to something else that the phrase "hear my voice" represents. What is it?
The context tells the story. Jesus says, "My sheep hear My voice, and I know them, and they follow Me," and then adds, "and I give eternal life to them" (27-28). Note the sequence: His sheep hear His voice. They follow Him in response. He then gives them eternal life. Hearing Jesus' voice is a figure of speech for the inner working of the Holy Spirit that leads to our salvation. It results in salvation; it's not the result of salvation. It's applied here to non-believers destined for the Kingdom, not believers already in the Kingdom.
Recently on Spiritual Life
Have something to say about this article? Leave your comment via Facebook below!
advertise with us
Example: "Gen 1:1" "John 3" "Moses" "trust"
Advanced Search
Listen to Your Favorite Pastors