Why Jesus Compared Unforgiveness To the Sycamine Tree
Rick Renner, Rick Renner Ministries
Thursday, October 27, 2011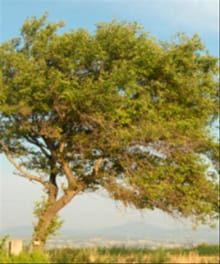 Jesus lets us know that like the sycamine fruit, the fruit of bitterness and unforgiveness is bitter, tart, and pungent. Like the fig, most people who are bitter and filled with unforgiveness chew on their feelings for a long time. They nibble on bitterness for a while; then they pause to digest what they've eaten. After they have reflected deeply on their offense, they return to the memory table to start nibbling on bitterness again - taking one little bite, then another little bite, then another. As they continue to think and meditate on their offense, they internalize their bitter feelings toward those who have offended them. In the end, their perpetual nibbling on the poisonous fruit of bit­terness makes them bitter, sour people themselves.
And just as the primary consumers of the sycamine fruit were poor people, those who sit around and constantly meditate on every wrong that has ever been done to them are usually bound up with all kinds of poverty. Their bitter attitude not only makes them spiritually poor, but they are also frequently defeated, depressed, sick, and financially poor as well.
4. The sycamine tree was pollinated only by wasps.
It is very interesting to note that the sycamine tree was not naturally pollinated. The pollina­tion process was only initiated when a wasp stuck its stinger right into the heart of the fruit. Thus, the tree and its fruit had to be "stung" in order to be reproduced.
Think of how many times you have heard a bitter person say: "I've been stung by that person once, but I'm not going to be stung again! What he did hurt me so badly that I'll never let him get close enough to sting me again!" It is likely that people who make such a statement have been "stung" by a situation that the devil especially devised to pollinate their hearts and souls with bitterness and unforgiveness. When a person talks like this, you can know for sure that the wasp of bitterness got to them!
Jesus said that in order to rid this nuisance from one's life, a person must have faith the size of "a grain of mustard seed." The word "grain" is the Greek word kokkos. It describes a seed, a grain, or a very small kernel. Jesus uses the example of a "mustard" seed in this example. The word "mustard" is the Greek word sinapi, which refers to the small mustard plant that grows from a tiny, miniscule seed.
By using this word, Jesus was telling His disciples that a great amount of faith is not needed to deal with bitterness and unforgiveness. Any person who has even a tiny measure of faith can speak to bitterness and unforgiveness and command them to leave - if that is really the desire of his heart.
So what is your desire today, friend? Do you genuinely wish to be free from the bitterness, unforgiveness, and offense that has festered in your soul for so long? Are you ready to rip those destructive roots clear out of your heart so they won't be able to resurface in your life again? Are you tired of those detrimental attitudes killing your joy, stealing your peace, and nullifying your spiritual life? If so, be sure to read tomorrow's Sparkling Gem so you can find out exactly how to permanently eradicate these attitudes from your life!
MY PRAYER FOR TODAY
Lord, thank You for speaking to my heart about getting rid of bitterness, unforgiveness, and offense. I know from experience that these attitudes are a killer to my spiritual life. When I am filled with bitterness and unforgiveness, I become a sour hostage to my memories. When I am consumed with offense, I lose my joy and peace and my relationships with other peo­ple are horribly affected. I thank You for giving me all the faith I need to deal with this issue, Lord. Today I am asking You to help me start the process of ripping those foul roots out of the soil of my heart and soul.
Recently on Spiritual Life
Have something to say about this article? Leave your comment via Facebook below!
advertise with us
Example: "Gen 1:1" "John 3" "Moses" "trust"
Advanced Search
Listen to Your Favorite Pastors