Giving Your Life Away
John D. Barry, CEO of Jesus' Economy
Wednesday, May 21, 2014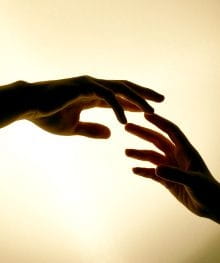 Jesus is all about loving others with everything you have, in every moment, in proclamation of the eternal life He offers. He said:
"The Spirit of the Lord is upon me, because he has anointed me to proclaim good news to the poor. He has sent me to proclaim liberty to the captives and recovering of sight to the blind, to set at liberty those who are oppressed" (Luke 4:18).
"Go and tell John what you have seen and heard: the blind receive their sight, the lame walk, lepers are cleansed, and the deaf hear, the dead are raised up, the poor have good news preached to them" (Luke 7:22).
"But when you give a feast, invite the poor, the crippled, the lame, the blind" (Luke 14:13).
I am constantly learning from Jesus what it means to fully love others and give of myself. I try to pray each day that He will teach me to better live His sayings, which speak to our beliefs and the empathy that should accompany them.
Giving Even When You Don't Have Much
Giving is something we all must practice. It is one of the ways Jesus overcomes the spiritual poverty of our hearts—and alleviates the physical poverty of others in the process. And this idea is even more profound when practiced by the impoverished.
Regarding an impoverished widow who put a seemingly insignificant amount of money into the offering box, Jesus says:
"Truly, I say to you, this poor widow has put in more than all those who are contributing to the offering box. For they all contributed out of their abundance, but she out of her poverty has put in everything she had, all she had to live on" (Mark 12:43–44; see 12:41–44 ESV).
Hope is about Believing What is Yet to Be
For Jesus—like the author of Hebrews—hope is about believing in what is yet to be (Hebrews 11:1). And belief is about action. We are called to follow Jesus with our entire being. And the ramifications of doing so are incredible.
Right at the beginning of the Gospel of Mark, we see the power of Jesus' calling upon our lives:
"Passing alongside the Sea of Galilee, [Jesus] saw Simon and Andrew the brother of Simon casting a net into the sea, for they were fishermen. And Jesus said to them, 'Follow me, and I will make you become fishers of men.' And immediately they left their nets and followed him. And going on a little farther, he saw James the son of Zebedee and John his brother, who were in their boat mending the nets. And immediately he called them, and they left their father Zebedee in the boat with the hired servants and followed him" (Mark 1:16–20 ESV).
Jesus' earliest followers literally dropped their livelihoods to follow Him—they completely dedicated themselves to Him. Similarly, we are called to make sacrifices for Jesus—to show others love by giving, praying, and investing in them.
To a man with a recently lost loved one, Jesus said:
"'Follow me.' But [the man] said [to Jesus], 'Lord, let me first go and bury my father.' And Jesus said to him, 'Leave the dead to bury their own dead. But as for you, go and proclaim the kingdom of God'" (Luke 9:59–60 ESV).
Have something to say about this article? Leave your comment via Facebook below!
advertise with us
Example: "Gen 1:1" "John 3" "Moses" "trust"
Advanced Search
Listen to Your Favorite Pastors