Maybe I Had "Submission" Wrong All Along
Elisabeth Klein, Crosswalk.com Contributing Writer
Friday, July 19, 2013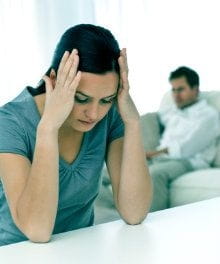 To people who don't hold to the Christian faith, especially women I think, submission is a four-letter word, and they can't believe we Christian women ascribe to it. (Heck, to some women actually in the Christian faith, submission is a four-letter word.)
"No man is going to tell me what to do…" et cetera, et cetera.
And I get that. And I believed that up to the point where I accepted Christ at the age of fifteen. Okay, up to the point where I read this verse:
"Wives, submit yourselves to your own husbands as you do to the Lord." –Ephesians 5:22
The first time I read that, I think I threw up in my mouth a little bit. If someone had asked me before that time, I would've said I considered myself a feminist in that I believed men and women are equal.
And I still believe that. And I believe God believes that. But that's not what we're talking about here.
We're talking about how totally clear the Bible is that a wife is to submit to her husband, and what that means.
I remember my youth pastor's wife telling me that submission was something that, if done well, you could barely even tell it was happening. Meaning, you'll be loved so well that you won't mind deferring when the situation arises. I felt okay with that definition of it and moved on with my life. (Plus it tends to be easy to be okay with the idea of submission when you aren't even dating anyone.)
But what do you do when – as a wife – you don't feel loved well and yet the Bible says to submit to your husband?
I think I thought during all those years that I was married (and even a few before marriage, as illustrated here) that submission meant I had to do what I was told. We never talked about it like that. But I made choices that reflected that belief.
And even now as I look back on my choices – mainly to let myself be told what to do, to let sin go on for years and years and years – I struggle with wondering if my newfound hutzpah is just nazi-feminism and if given the same circumstances if I would – in the name of submission – make all the same choices again.
Because bottomline, in a marriage, I would want to please God. And pleasing God means following what's in the Bible. And the Bible says to submit to your husband – wait for it – in everything. (Ephesians 5:24)
People – way smarter than I am – have written volumes on this topic, and I couldn't do it justice no matter how much I wrote about it. But I'm reading a book by Dr. Larry Crabb that is super good and it's rearranging my thinking a bit, in a really helpful way.
Because Dr. Crabb says, basically, that yes, wives are commanded to submit to their husbands in everything. E-ver-y-thing. And that every word of God's word is for our benefit. And that "a feminine woman discerns and is open to receive only what reflects God's character and advances His purposes." And so therefore, submission can look like this:
Saying no, with respect, to your husband who asks you to co-sign a loan that has purposely inaccurate financial information on it. Because to live a life of integrity will reflect God's character in that situation.
Saying no, with respect, to your husband who suggests a threesome. Because to live a life of purity will reflect God's character in that situation.
Recently on Divorce and Remarriage
Have something to say about this article? Leave your comment via Facebook below!
advertise with us
Example: "Gen 1:1" "John 3" "Moses" "trust"
Advanced Search
Listen to Your Favorite Pastors