The Unfaithful Spouse: Should I Divorce or Try to Reconcile?
Joe Beam, President, Marriage Helper
Friday, September 28, 2012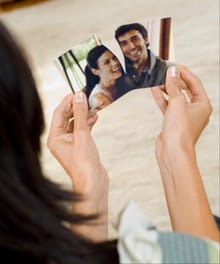 "Everybody in my family tells me to divorce her. My Mom will be furious if I don't. She called Shelly some pretty bad names. Called the guy she was involved with worse names. She insists that I file immediately."
"Why haven't you?" I asked.
"I don't know. I'm hurt. Deeply. But we had fourteen years together. My kids don't say anything, but I can see how worried they are. They don't know the details, of course, but they know things are bad between Shelly and me. If I divorce her, do I tell 'em what their mother did? And do I lose my kids if I divorce? Mom says that a good lawyer can take the kids away from her because of what she did, but I don't know…"
"Yeah, you have a lot to consider. What do you really want? If you could just snap your fingers and get it, what would you wish?"
"I'd wish she never met Jarrod. That she hadn't gotten involved with him."
"Uh-huh. But since you can't change the past, how would you change the future? Again, what it is that you truly want?"
"I want this to be over. I want my wife to love me. I want peace and trust and security. I want what I thought we had but turns out we didn't…"
I could put a name to the man in the conversation above. Actually, hundreds of them. If you prefer, I could change the pronouns and provide hundreds of women's names instead. Since 1994, we have worked with thousands of marriages, many affected by infidelity, though all the other problems have been represented in quantity as well. Control and domination, addiction, anger, stepfamily difficulties, in-law problems, and more lead people to contact us for help. They do not always call to seek help to save their marriages; sometimes they call because they feel confusion about whether they should divorce or try to reconcile their marriages.
When offended spouses ask my counsel, I suggest they consider five things as they make their decisions.
First, do not allow your family or friends to make your decision.
We need our families. We need them even more during times of crisis. We want their support, love, and understanding.
However, following their advice in trying times may lead to poor consequences.
Why?
When we hurt, those who love us also hurt. Because of their love for us, they can become very angry and bitter toward the person who caused our pain. Often, that creates within them strong negative feelings about that person. Therefore, they usually do not wish us to continue in a relationship with the one who hurt us. Instead, they want to protect us from the offender. Because the safest route to our not being hurt by that person again is to end the relationship, those who love us may want us to do just that.
Sometimes their urging us to end the relationship actually is the wisest course of action. However, sometimes it is not. Their love for us may blind them to the possibility of rescuing the relationship and the benefits that reconciliation brings.
If your spouse has hurt you – especially by infidelity – bask in the love and security of your family and friends, but seek advice about how to deal with your straying spouse from wise and experienced people who do not carry your hurt in their hearts.
Before making your decision about divorce or reconciliation, seek balanced counsel rather than biased counsel.
Second, do not try to hurt the one who hurt you.
A woman who caught her husband in his second illicit relationship packed her things and her children and moved back to her hometown. In a phone conversation, she told me that her friends wanted her to do everything she could to destroy her husband's reputation as well as annihilate him financially. When I enquired whether she intended to do so, she replied that she told her friends she had enough hurt on her own and did not need to take on theirs as well.
Recently on Divorce and Remarriage
Have something to say about this article? Leave your comment via Facebook below!
advertise with us
Example: "Gen 1:1" "John 3" "Moses" "trust"
Advanced Search
Listen to Your Favorite Pastors