Become Irresistible to Your Husband
Cindi McMenamin, Author
Saturday, July 09, 2011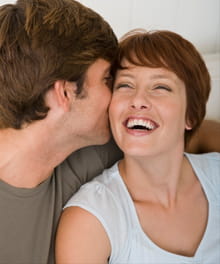 Editor's Note: This article is Part 2 of a 2-part series. Read Part I here.
Having a difficult time getting your husband's attention? Sometimes he simply needs a boost. A boost to his ego so he will believe you want him, physically as well as emotionally. Sometimes he needs some extra effort on your part to be enticed and drawn toward you.
Just as there are a myriad of reasons he might seem to have lost interest in you, there are also a myriad of ways (or at least 26…one for every letter of the alphabet) to recapture his interest and make him want to pursue you again. Here is what I call "The ABCs of Being Irresistible in Your Husband's Eyes:"
A – Affirm him. One of the things your man finds most attractive about you is that you were at one time (and hopefully still are) attracted to him. A man wants to be around a woman who makes him feel like he's winning. Let him know he's a great provider, he is great at what he does, he can still get your heart racing– whatever it is that you can compliment him on. And mean it. A woman who sings her man's praises is a woman he'll come after… so he can hear more!
B – Be a mystery. Men still love a challenge; just don't make it too complicated. Does your husband know everything there is to know about you? If so, develop a new skill or idea or come up with a secret he's dying to discover. When you become a mystery to your husband there are things about you that he still wants to know, things you're thinking that he'd like for you to divulge, secrets in your soul that he'll be challenged to draw out. You don't give him a chance if you tell him everything. Write him an anonymous note from a "secret admirer" and put it somewhere you couldn't have and don't reveal it was from you. Offer to meet him somewhere and show up in a new dress and hairstyle. Be mysterious, in some ways. Be to him a treasure chest full of secrets he's dying to unlock!
C – Cultivate your relationship with Christ. What makes you truly attractive, and one worth pursuing? The beauty of Christ in you. When you have an intimate devotional life with Christ, and are controlled by His Spirit, your life will produce the fruits of His Spirit – love, joy, peace, patience, kindness, goodness, faithfulness, gentleness, and self control (Galatians 5:22-23). What man doesn't want to chase after a woman who is truly joyful, peaceful, patient, kind, good, faithful, gentle and – they love this one the best – self-controlled!
D – Dress for him. Some women don't think much about what they wear, with the excuse that they're just not into the "latest" fashion. Or, they will dress nice when they go to church, or out with girlfriends, but not put much effort into how they look for "just my husband." But men can recognize "frumpy" even if we can't. And dress for him at night, too. Your husband might be majorly turned off by a "grandma" night gown that resembles something his mother used to wear! So, it may be time to invest in some lingerie or just something 'form flattering' or feminine.
E – Exude confidence. He once found it attractive in you. He still does. So, regardless of how you might feel about your weight, body shape, "big knees," "small chest," cellulite, veins or whatever, get over it. He has. Honestly, he doesn't see all the body flaws you think are so very obvious. Men tend to not analyze or critique our bodies nearly as much as we do. When you are confident in your speech, your walk, your relationship with him, and your role as his wife that, too, is attractive.
Recently on Relationships
Have something to say about this article? Leave your comment via Facebook below!
advertise with us
Example: "Gen 1:1" "John 3" "Moses" "trust"
Advanced Search
Listen to Your Favorite Pastors