Courting Danger Online: Teenagers and the Internet
R. Albert Mohler, Jr., President, The Southern Baptist Theological Seminary
Wednesday, February 08, 2006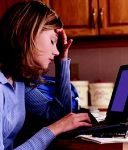 As Janet Kornblum of USA Today remarks, America's teenagers are growing up "with a mouse in one hand and a remote control in the other." The generation Microsoft founder Bill Gates calls "Generation E" has never known a time when information was not instantly accessible on the internet, or when communication was not available at warp speed through instant-messaging, e-mail, and Internet websites.
Make no mistake -- teenagers are wired and highly active online. According to the Teenage Life Online report released by The Pew Internet and American Life Project, over seventeen million teenagers use the Internet. According to the report, that represents 73 percent of all teenagers. "Teenagers' use of the Internet plays a major role in their relationships with their friends, their families, and their schools," the report explains.
All this leads to new opportunities, and to new dangers. One of the latest challenges faced by parents is the development of teenage blogging. Taking advantage of Internet websites such as MySpace, Facebook, and Xanga, many teenagers and college students are creating personal blogs, which are essentially online diaries accessible to the public. As Kornblum explains, these teenagers "now pour out their hearts, minds, and angst in personal online diaries."
She also describes the problem this way: "And anyone with a connection--including would-be predators--can have a front-row view of this once-secretive teenage passion play."
Kornblum is correct. Teenagers are using blogs in unprecedented numbers. What was once communicated through phone conversations is now handled by instant-messaging. The content once secreted in the pages of hand-written diaries is now out for public consumption, and often with intimate details and personal information.
Paul Saffo of the Institute for the Future in Menlo Park, California explains, "This is the new way kids interact. Fifty years ago, they borrowed their parents' phones or made their own phones out of string and Dixie cups. Today they have their own cell phones, and they have their own computer accounts and Web pages, and they have their own blogs. It's part of life in the cyber age."
The Pew study estimates that at least four million teenagers now blog. These numbers do not even include pages found at some of the most popular Internet sites where young people are posting personal information and putting up personal Web pages.
Most observers agree that girls dominate blogging, even as in previous generations girls were far more likely than boys to keep personal diaries. Far too many parents are unaware of the dangers that lurk on the Internet.
Others are keeping a watchful eye on their children and their blogs. The Wall Street Journal recently reported that increasing numbers of parents have resorted to "spying" on their teenagers by visiting their blogs. Reporter Kevin J. Delaney took a look at this issue through the lens of one mother and her teenage daughter. This mother discovered that the daughter had lied about going to a high school football game with friends. By reading the girl's blog, this mom discovered that her daughter had actually gotten into the car of a boy the mother did not even know and had gone to an ice-cream shop without permission.
Her daughter quickly figured out that her mother had traced her activities through her online diary and blog. Since then, this mom has attempted to use software programs to snoop on her daughter's Internet use and the revelations of her personal life. According to Delaney, the mom spends approximately thirty minutes a day monitoring her daughter's activities on and off the Internet.
"If my daughter had a diary in her room, I would not read it. But what she posts on the Internet is posted to the entire world," the mother reported. Amazingly, some claim that teenagers' blogs should be off-limits to parents As Janet Kornblum reports, "Experts are divided about whether and how parents should treat the journals--especially when it comes to teens over 13." Some argue that, since the material is published in public view, there should be no assumption of privacy. Others, Kornblum reports, "argue that reading journals is no different from eavesdropping on their kids."
Have something to say about this article? Leave your comment via Facebook below!
advertise with us
Example: "Gen 1:1" "John 3" "Moses" "trust"
Advanced Search
Listen to Your Favorite Pastors