Kingdom Singleness
Renea McKenzie, Probe Ministries
Thursday, December 10, 2009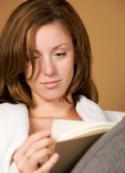 The Bible tells us to intrude—or rather, the Bible tells us that talking to one another about what is really going on in our lives is in fact not an intrusion at all, because what's going on in my life is already your concern; by dint of the baptism that made me your sister, my joys are your joys and my crises are your crises. We are called to speak to one another lovingly, to be sure, and with edifying, rather than gossipy or hurtful, goals. But we are called nonetheless to transform seemingly private matters into communal matters (53).6
Already we're presented with a meaty alternative to the false views of sex, or we could say, unreal sex propagated in force by our surrounding culture. The next two chapters speak truth against the lies about sex we hear both from our culture and our churches. These chapters give readers an opportunity to take a step outside of their everyday, cultural surroundings and consider them. Opening up the conversation of sex and our sexuality to the whole of Scripture and to our Christian communities is like opening the windows of a dark room. By this light we see the lies our culture tells about sex, and we can work together to begin rejecting such ideologies, establishing a core understanding of human sexuality that, in fact, stands apart; we can develop beliefs and habits of a sacred sexuality. Winner points out that society tells lies, like "sex can be wholly separated from procreation" (64), cohabitation is a good practice-run (68), modesty doesn't matter (71), and "good sex can't happen in the humdrum routine of marriage" (77).
Of those four statements, which strikes you as most dangerous? We might think it's the prolific idea of shacking up; and in fact, the church is usually pretty clear on its position regarding premarital sex. However, I would like to suggest that a subtle distortion is always more dangerous than an obvious one. Winner agrees; she states,
Too often we assume that contemporary American sexual life is a one-dimensional world of licentious prurience. Yet it may be more important for contemporary Christian ethics to constructively engage secular romanticism than to righteously denounce sexual libertinism. It is, after all, pretty easy for us Christians to distinguish ourselves from the sex-is-recreation ethic. The real question is not whether we can counter the message that sex is just like racquetball, but whether we can also articulate a Christian alternative to the regnant ideal of sex as an otherworldly, illicit romance, an escape from quotidian, domestic life (80).
Sex isn't meaningful because it's an erotic escape from everyday realities. Rather, sex is meaningful because it's real (81). And while romance is certainly appropriate, even important, as part of sustaining love, if it serves merely to compartmentalize our lives rather than integrate them, our lives will be less, not more, fulfilling.
Getting Real
This next chapter is perhaps where we get a bit more personal: "Straight Talk II: Lies the Church Tells about Sex." In an effort to do right and protect the biblical ethic of sex within marriage, and with honorable intentions, "the church tells a few fibs of its own" (85). Winner chooses to discuss four of these fibs: "premarital sex is guaranteed to make you feel lousy" (85), "women don't really want to have sex anyway" (90), "bodies (and sex) are gross, dirty, or just plain unimportant" (93), and finally, that good sex is all about technique, a secular myth that we can, and should, Christianize (97).
I can't talk about all of these ideas (and I wouldn't want to give away the whole book!), but I do want to address a couple of them. I'm sure some of you are thinking, "Doesn't premarital sex make you feel lousy, full of guilt and regret? And if it doesn't, shouldn't it?" It's possible there's more truth in the second thought than the first one because, let's face it, sex feels good, even sinful sex. If it didn't, premarital (and extramarital) sex would certainly be a lot easier to avoid. We wouldn't need Winner's book, or any other book, not to mention the community of faith, the Bible, or the Holy Spirit for that matter; at least, not insofar as we need them for our journey toward right-living (89). "What the church means to say," posits Winner, "is that premarital sex is bad for us, even if it happens to feel great" (90).
Have something to say about this article? Leave your comment via Facebook below!
advertise with us
Example: "Gen 1:1" "John 3" "Moses" "trust"
Advanced Search
Listen to Your Favorite Pastors