The Five Love Languages, Singles Edition
Gary Chapman, Author
Tuesday, March 24, 2009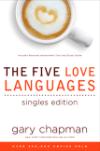 EDITOR'S NOTE: The following is an excerpt from The Five Love Languages, Singles Edition by Gary Chapman (Moody Publishing).
Single Adults: Significant and Growing
If you're reading this book, chances are you're either single or know someone who is. More than four of every ten American adults are single—92 million americans.1 In fact, the united States has more single adults than any other nation in the world except China and India.2
Of course, it wouldn't be accurate to lump all single adults into the same group. There are at least five very different categories of single adults. The largest numbers of singles are those who have never been down the aisle (those to whom this book is largely directed), but the other four groups also command our attention. Here are the five groups:
1. Never married. Age eighteen and older, this group is 49 million strong.3 The median age of a first marriage has risen to twenty-five among women and twenty-seven among men. This means that, in the general population among people eighteen to twenty-four, almost four out of every five (78 percent) have never been married.4
2. Divorced. Today, at any one time, 10 percent of all adults are divorced.5 Over time, however, many more married adults suffer through a divorce. Within five years of the wedding, 20 percent of all marriages end in divorce. Within ten years, one-third of all couples will be divorced, and within fifteen years, 43 percent will be divorced.6
3. Separated but not divorced. These are individuals who are still legally married but no longer live under the same roof. In lifestyle they are more single than married. The separated status, however, is temporary. These individuals will either reconcile with their spouses or go on and formalize their separation by legal divorce. Research indicates that 97 percent of white women (and 75 percent of non-white women) who separate from their husbands end up divorced within five years of the separation.7
4. Widowed. Widowhood is definitely gender biased. Four out of five adults who are single because of the death of their spouse are females. Nearly half of all women sixty-five and older are widowed, compared to only 14 percent of men over sixty-five.8
5. Single parents. One hundred years ago, fewer than 1 percent of adults was a single parent of a child under eighteen. Today there are more than twelve million single parents with children under eighteen in their care—almost one out of every three families.9 Obviously, many single parents are also divorced. But a growing number of single parents have never been married. Among those who are single moms, 40 percent were never married to the father of their children.10 Thus a growing number of never-married singles are also single parents.
Diverse Yet United
Clearly, single adults are a very diverse group of people. However, they are still united by those factors that hold all of us together as humans. Everyone wrestles with values, morals, relationships, and meaning. If you are a single adult, just like everyone else, you're seeking to understand yourself and your place in the world. At the heart of these pursuits is the need as an unmarried person to give and receive emotional love.
No matter which category you may or may not fall into, as a single adult, you want to feel loved by the significant people in your life. You also want to believe that others need your love. Giving and receiving love is at the center of every single adult's sense of well-being. If you feel loved and needed, you can survive the pressures of life. But without love, life can become exceedingly bleak.
Have something to say about this article? Leave your comment via Facebook below!
advertise with us
Example: "Gen 1:1" "John 3" "Moses" "trust"
Advanced Search
Listen to Your Favorite Pastors