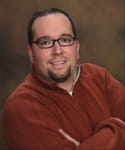 As a pastor I have to counsel many who suffer. Often I'm at a loss as to what to say. I know the right Scriptures to present. I can reassure them that our people love them and are standing with them. But unless I've undergone a similar trial, what do I say?
What do I tell the parent whose child has cancer? What do I tell the wife who grieves the breakup of her marriage? What do I tell my own wife who recently buried her mother at a too-young age?
There are great, theological books on suffering. Books I've read, used as a basis for preaching, and have internalized. They are good. And yet they still seem sort of sterile in a time of personal suffering. There are also many good personal books that talk about the trials of suffering. But many of these lack the Scriptural basis for walking someone through difficulty.
This is why I so enjoyed Michael Kelley's book, Wednesdays Were Pretty Normal.
Kelley, a writer, pastor, blogger, and director of discipleship for Lifeway, takes us through his own personal nightmare. One day, a doctor delivered the news that no parent wants to hear: "Your son has leukemia."
I'm a father of four children. The thing I fear most in my life is the serious illness, injury or death of one of my kids. It's the news I hope I never have to hear.
How do you handle this? How do you endure the endless tests, treatments, complications, financial considerations, etc., when your young child has cancer? Kelley walks you through their story with authenticity, vulnerability, and hope. Kelley writes so well, so poignantly and personally. He breaks down the Scriptures teaching on trials and suffering in such an original and practical way. This is a book on suffering and hope that is not theoretical. There are not cheap platitudes. Only the day-by-day struggles of a father trying to make sense of his son's struggle with leukemia.
I think this book may be the best Christian book published in 2012. I hope it reaches the New York Times Bestseller list. It deserves too. It's a book I will gladly recommend to others. I'm thinking of ordering several copies and giving them to people I know who are suffering. The Scriptures Michael applied to his own heart will resonate with anyone who is suffering, not simply those who are grieving a child.
Simply put: this is the best book on suffering I've ever read. It's a beautiful, wonderful read that can help breathe hope into a troubled, restless, angry soul. It has theological weight measured out in easily digestible doses. The book is comprised of short, simple chapters. It's like a running conversation.
I can't recommend this book any higher. If you've ever asked God, "Why?" you need to read Wednesdays Were Pretty Normal.
Michael Kelley, thank you for opening up your heart and sharing your story with us. I pray God uses Wednesdays Were Pretty Normal in a powerful way to inspire hope in millions of people around the world.
Additional Resources:
Michael Kelley discussing his book:
Michael Kelley Interview with Trevin Wax
Download First Chapter of Wednesdays Were Pretty Normal
Have something to say about this article? Leave your comment via Facebook below!
About Daniel Darling
Daniel Darling is the Senior Pastor of Gages Lake Bible Church in the northwest suburbs of Chicago and is the author of several books, including his latest, iFaith. His work has been featured in evangelical publications such as Relevant Magazine, Focus on the Family, Marriage Partnership, Pray!, Relevant, In Touch with Dr. Charles Stanley. He has guest-posted on leading blogs such as Michael Hyatt, The Gospel Coalition, OnFaith (Washington Post), and others. He has been profiled by The Chicago Tribune. Daniel is a contributing writer to Zondervan's Couples Devotional Bible. Publisher's Weekly called his writing style "substantive and punchy." Dan is a contributing writer to Christian Today's online magazine, Kyria as well as Lifeway's men's devotional, Stand Firm. He also maintains a blog at patheos.com, entitled, The Friday Five, where he interviews leading evangelicals. Dan's columns appear weekly at Crosswalk.com and monthly for the local Lake County Journals. Dan has been interviewed on TV and radio outlets across the country, including Moody Broadcasting Network, Harvest Television, The Sandy Rios Show, American Family Radio, the Salem Radio Network, and a host of drive time radio stations across the country. Daniel has a bachelor's degree in pastoral ministry from Dayspring Bible College. He traveled extensively to India and the Middle East. He and his wife, Angela, have three daughters and a son and reside in the northwest suburbs of Chicago.
Example: "Gen 1:1" "John 3" "Moses" "trust"
Advanced Search
advertise with us
Recently by Daniel Darling
Recently on Crosswalk Blogs