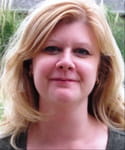 Eighteen years ago, my husband and I each scribbled two names on ripped pieces of a receipt, and stuck them in a baseball cap. Pat shook them up and I drew one out.
I opened the folded paper and frowned. "Not the right one."
"Best of three." Pat suggested.
After two more draws, I changed it to the best of five.
He agreed even though his top choice had made best of three.
The wrinkled paper that turned out to be best out of five read Kyle.
With a smile, because my handwriting scrawled over that part of the receipt, I lifted our brand new son out of the bassinet and stared into his bright blue eyes. "Hi, Kyle."
"Ahem," a voice cleared across the room.
Oops. I'd forgotten we weren't alone. I turned to the nurse waiting on the chair by the door holding a clipboard in her hand. "We've decided."
"Finally." She walked to my husband and handed him a pen. "Name this child so you can take him home."
My husband quickly filled in the word it had taken us more than three days to agree on and our new addition became someone.
He became a Kyle. But not just any Kyle. Kyle Patrick Freeland. These three words would now identify him, walk before him, introduce him. And right there in the room, we prayed for him to grow up to be the fortress that his name called him to be.
Names are important. Jesus has many names. And he lives up to all of them. Each of them backed with power from the Father.
"For you have been my refuge, a strong tower against the foe" (Psalm 61:3 NIV).
" …and he who sits on the throne will shelter them with his presence" (Revelation 7:15 NIV).
"She will give birth to a son, and you are to give him the name Jesus, because he will save his people from their sins"(Matthew 1:21).
Paul Baloche shares my heart for the magnificent name of Jesus best in his song, Your Name. "Your name is a strong and mighty tower. Your name is a shelter like no other… Nothing has the power to save, but Your name."
Have you ever called on the Name of Jesus? Out loud? Alone or in a group?
I have and every time I'm amazed at the power, the peace, the love that comes with speaking aloud the name of Jesus.
If you've read my post Be a Dork for Jesus, you aren't surprised by this. Are you picturing me dancing around the kitchen in those pink footie pajamas?
I lift you up, Jesus. I call upon your name in my hour of need, in my moment of rest, in the trials of indecision.
Have something to say about this article? Leave your comment via Facebook below!
About Lori Freeland
Lori Freeland, a freelance writer from the Dallas area, holds a bachelor's degree in psychology from the University of Wisconsin-Madison. In her other life, the one BK—before kids—she has worked as a social worker and a certified dyslexic reading tutor. Currently, she embraces her status as full-time homeschool mom to three awesome children. Her big dream? Becoming a Young Adult novelist, a goal she diligently pursues during the wee hours of the morning with help from a very large mug of coffee and occasionally some chocolate-covered peanuts. In addition to blogging and contributing regular inspirational articles to Crosswalk.com, The Christian Pulse, and Believe.com, she loves to mentor new writers and encourage people to share their life stories. As a member of the Cancer Mom club, she desires to connect with others in hopes of giving support to those struggling down the messy paths of life. You can find her hanging with the North Texas Christian Writers as a Critique Group Leader and Writing Coach or cheering on her writers on the Faith Team at The Christian Pulse where she recently took on the role of editor. She also loves to attend Society for Children's Book Writers and Illustrators meetings where she has begun a critique workshop for new writers. You can visit her website at LAFREELAND.COM.
Example: "Gen 1:1" "John 3" "Moses" "trust"
Advanced Search
advertise with us
Recently by Lori Freeland
Recently on Crosswalk Blogs