Can Someone Place A Curse On Me For Bad Things To Happen?
Dr. Roger Barrier, Preach It, Teach It
Wednesday, February 27, 2013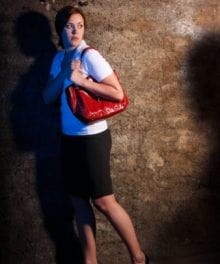 Noah cursed his son Ham when Ham peeked at him while he was drunk and naked (Genesis 9:18-27).

Shimei cursed and spit on David as David was fleeing Jerusalem ahead of Absalom's army of rebellion. Shimei was upset because David took over the Kingship from the family of Saul (2 Samuel 16:5-8 and1 Kings 2:32-46). Joab wanted to kill Shimei on the spot; but, David stopped him by admitting that the curse was deserved. (By the way, David never got over the curse. As he laid dying he asked that Joab sever Shemi's "white-haired head" from his body.)

Intriguingly, Mrs. Job tried to get Job to curse God and die (Job 2:9;19:17). Satan prompted Mrs. Jobs pleading to her husband. This was Satan's backhanded attempt to place a curse on God.
Now, let me share with you the spiritual tools I use to protect myself from Satanic attacks--including curses. Perhaps you will find one or more of these practices helpful in navigating the spiritual waters of life.
First and foremost I pray for God to encircle me with a spiritual hedge of protection to insulate me from any personal or demonic designs. After all, if God put a hedge around Job that Satan couldn't penetrate without God's permission, then He can erect one around me. I pray Job 1:10 "Hast not thou made an hedge about him, and about his house, and about all that he hath on every side? Thou hast blessed the work of his hands, and his substance is increased in the land." I want the protection and I want the blessing of prosperity as well.
Next, I try to keep my life righteous and holy so that I open no door and give no opportunity for any curse to debilitate me in any way. I pray Proverbs 26:2 "Like a fluttering sparrow or a darting swallow, an undeserved curse does not come to rest."
Then, I try never to leave the house spiritually naked. I want to be clothed in the armor of God against any spiritual attack. I pray Ephesians 6:10-17: Finally, be strong in the Lord and in his mighty power.Put on the full armor of God, so that … when the day of evil comes, you may be able to stand your ground, and after you have done everything, to stand. Stand firm then, with the belt of truth buckled around your waist, with the breastplate of righteousness in place, and with your feet fitted with the readiness that comes from the gospel of peace. In addition to all this, take up the shield of faith, with which you can extinguish all the flaming arrows of the evil one. Take the helmet of salvation and the sword of the Spirit, which is the word of God. And pray in the Spirit on all occasions
In addition, I think of people who have hurt me. Instead of wishing them evil and harm, I try to pray for their blessing and prosperity.
After all, Jesus instructed us in Luke 6:28 to: "Bless those who curse you, pray for those who mistreat you."
You see, if we curse those who've hurt us then we put ourselves in danger of Christ's judgment. Jesus said in Matthew 5:22 "But I tell you that anyone who is angry with a brother or sisterwill be subject to judgment. Again, anyone who says to a brother or sister, 'Raca,'is answerable to the court. And anyone who says, 'You fool!' will be in danger of the fire of hell."
Have something to say about this article? Leave your comment via Facebook below!
advertise with us
Example: "Gen 1:1" "John 3" "Moses" "trust"
Advanced Search
Listen to Your Favorite Pastors