Is it OK to Keep Quiet About My Christianity?
Dr. Roger Barrier, Preach It, Teach It
Tuesday, December 03, 2013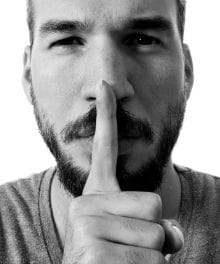 Editor's Note: Pastor Roger Barrier's "Ask Roger" column regularly appears at Preach It, Teach It. Every week at Crosswalk, Dr. Barrier puts nearly 40 years of experience in the pastorate to work answering questions of doctrine or practice for laypeople, or giving advice on church leadership issues. Email him your questions at roger@preachitteachit.org.
Dear Roger,
Do you have to publicly become a Christian or can you do it in private?
Sincerely, Anonymous
Dear Anonymous,
When I was growing up every worship service ended with a call for people to "surrender their lives to Jesus Christ as their Lord and Savior." People were invited to walk to the front of the congregation and publically declare their commitment to Jesus. They were thus identified as "new Christians"! The impetus for giving this type of invitation to follow Christ was Jesus' declaration in Matthew 10:32-33: "Whoever acknowledges me before men, I will also acknowledge him before my Father in heaven. But whoever disowns me before men, I will disown him before my Father in heaven.
Again and again I heard our pastor say, "Every disciple Jesus called, He called publicly. There is no such thing as a secret disciple. If you come forward now Jesus will confess to His Father that you are one of His children. But, if you don't come forward He will deny that He knew you!" My pastor was on the right track, but his focusing on walking the church aisle and on the now or never moment was quite obviously off the track.
Though my pastor was on the right track, He didn't carry the meaning of Christ's words far enough. Walking down the aisle of a church never made anyone a Christian! Becoming a Christian is a deeply personal, carefully considered decision of life-time devotion to the Person of Jesus Christ. This decision is made privately in the deep recesses of the human heart.
Following Christ is both a private and a public affair. Of course, the internal decision may be followed immediately by walking the aisle of a church and openly declaring faith in Christ. But, not necessarily. The internal decision may be expressed in a multitude of ways.
Jesus' point is that the decision to follow Christ will not stay private. Following Christ results in an inner transformation which produces outward behaviors that reflect Jesus and His Kingdom on Earth.
If the private encounter is real, and our surrender to Christ is indeed a life-changing commitment, then Jesus will gladly declare to His Father that we are truly His children and welcome us into the eternal Kingdom. On the other hand, if the inner commitment is faulty or incomplete, then outside religious behaviors will not fool Jesus. With a broken heart He will tell His Father that we are not His. We will enter into a kingdom where we really don't want to spend eternity at all!
The primary context of Matthew 10:32-33 is persecution. Jesus taught His followers that they would be called on to testify before powerful authorities to declare whether or not they followed Christ. On that day, true Christians will declare their surrendered relationship with Christ—even at the cost of their lives.
In practical reality, living under the iron fist of the Roman Empire, things were not nearly so clear-cut. There is little doubt that under intense torture the one being pressured can be made to say anything.
A problem arose in the church during the first and second centuries. Some of the Christians broke down and denied Christ under torture. Many in the churches "kicked out" of their churches those who denied Christ by declaring that true believers would never for a moment deny Christ. Others wanted to forgive them and welcome their return. The issue was never resolved.
Have something to say about this article? Leave your comment via Facebook below!
advertise with us
Example: "Gen 1:1" "John 3" "Moses" "trust"
Advanced Search
Listen to Your Favorite Pastors