Is the World About to End? What Should I Do Now?
Dr. Roger Barrier, Preach It, Teach It
Wednesday, March 23, 2011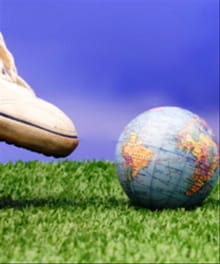 Editor's Note: Pastor Roger Barrier's "Ask Roger" column regularly appears at Preach It, Teach It. Every week at Crosswalk, Dr. Barrier puts nearly 40 years of experience in the pastorate to work answering questions of doctrine or practice for laypeople, or giving advice on church leadership issues. Email him your questions at .roger@preachitteachit.org.
Dear Roger,
It seems like the world is falling apart. I'm scared. My friends and I talk about what is happening to the global economy and I just get more scared. My house is worth less now than when I bought it. I feel stuck. I couldn't sell it now even if I wanted to. The fallout in Japan, the upheaval of governments in the Middle East, No-Fly zones in Libya... What do you think is going to happen? Is this the end? Is the Book of Revelation being fulfilled now? Will things ever return to normal? Will the earthquakes, revolutions and genocide increase?
I know I am asking a lot of questions and you don't have to answer them all but I would appreciate it if you'd share some thoughts on the current crises.
Thank you,
A concerned Christian
---
Dear Concerned Christian,
Before I give you my thoughts, I am going to post a short few paragraphs from Paul Benware, from his book, Understanding End Times Prophecy:
Matthew 24:5-8 gives us some important clues so we can discern the approach of the end times, "For many will come in my name, claiming, 'I am the Christ,' and will deceive many. You will hear of wars and rumors of wars, but see to it that you are not alarmed. Such things must happen, but the end is still to come. Nation will rise against nation, and kingdom against kingdom. There will be famines and earthquakes in various places." An increase in false messiahs, an increase in warfare, and increases in famines, plagues, and natural disasters—these are signs of the end times. In this passage, though, we are given a warning: we are not to be deceived, because these events are only the beginning of birth pains; the end is still to come.
Some interpreters point to every earthquake, every political upheaval, and every attack on Israel as a sure sign that the end times are rapidly approaching. While the events may signal the approach of the last days, they are not necessarily indicators that the end times have arrived. The apostle Paul warned that the last days would bring a marked increase in false teaching. "The Spirit clearly says that in later times some will abandon the faith and follow deceiving spirits and things taught by demons" (1 Timothy 4:1). The last days are described as "perilous times" because of the increasingly evil character of man and people who actively "resist the truth" (2 Timothy 3:1-9; see also 2 Thessalonians 2:3).
Other possible signs would include a rebuilding of a Jewish temple in Jerusalem, increased hostility towards Israel, and advances toward a one-world government. The most prominent sign of the end times, however, is the nation of Israel. In 1948, Israel was recognized as a sovereign state, essentially for the first time since A.D. 70. God promised Abraham that his posterity would have Canaan as "an everlasting possession" (Genesis 17:8), and Ezekiel prophesied a physical and spiritual resuscitation of Israel (Ezekiel chapter 37). Having Israel as a nation in its own land is important in light of end times prophecy because of Israel's prominence in eschatology (Daniel 10:14; 11:41; Revelation 11:8).
Have something to say about this article? Leave your comment via Facebook below!
advertise with us
Example: "Gen 1:1" "John 3" "Moses" "trust"
Advanced Search
Listen to Your Favorite Pastors