Is the World About to End? What Should I Do Now?
Dr. Roger Barrier, Preach It, Teach It
Wednesday, March 23, 2011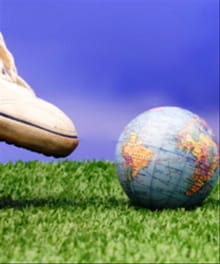 Second, pray for mercy for our nation and world. In 2 Chronicles 7:13-14 God revealed that He is behind the disasters overcoming the nation of Israel. He also revealed His plan for overcoming the disasters: "When I shut up the heavens so that there is no rain, or command locusts to devour the land or send a plague among my people, if my people, who are called by my name, will humble themselves and pray and seek my face and turn from their wicked ways, then will I hear from heaven and will forgive their sin and will heal their land."
Third, watch the signs unveiled in the Book of Revelation and pray for the return of Jesus to establish His kingdom on earth. These signs include—among many others—an increasing global temperature; the destruction of seafood in the oceans; an attempt at a world-wide government to deal with the crises of the end times; a double invasion of "Rosh from the North" (Russia?) and a horde of "200 million red army soldiers" from the East into the Middle East, Palestine, Israel and Lebanon; and finally, a nuclear holocaust in Israel. By the way, God has promised a crown for all of us who "love and look forward to the second coming of Christ."
Finally, make a difference in the world. People are more ready to look to Christ and the gospel than ever. The internet has covered the world so that all can hear the Gospel. Even in the most primitive areas, we are seeing miracles and revival. During a conference in the Middle East recently, a Campus Crusade national director in one African nation told us how Christian women are trained to carry projectors, generators, fuel and the "Jesus Films" as they walk all over their country in order to evangelize. Last year Campus Crusade recorded over 3 million decisions to follow Christ in that "collapsed" country as a result of their work. Times of crises like the Japanese tsunami and nuclear fallout mean times of opportunity to advance the Kingdom.
Well, Concerned Christian, I didn't intend to go into so much detail. Nevertheless, everyone is wondering about this subject so I am glad you asked it. Ask me another sometime.
Love,
Roger
Dr. Roger Barrier currently serves as senior teaching pastor at Casas Church in Tucson, Arizona. In addition to being an author and sought-after conference speaker, Roger has mentored or taught thousands of pastors, missionaries, and Christian leaders worldwide. Casas Church, where Roger has served throughout his thirty-five-year career, is a megachurch known for a well-integrated, multi-generational ministry. The value of including new generations is deeply ingrained throughout Casas to help the church move strongly right through the twenty-first century and beyond. Dr. Barrier holds degrees from Baylor University, Southwestern Baptist Theological Seminary, and Golden Gate Seminary in Greek, religion, theology, and pastoral care. His popular book, Listening to the Voice of God, published by Bethany House, is in its second printing and is available in Thai and Portuguese. His current book, The Prayer God Always Answers, is currently being translated into Russian. Dr. Barrier is currently completing a spiritual growth book that is intended to help Christians move into greater spiritual intimacy with God the Father.
This article originally appeared at Preach It, Teach It, a site for pastors, teachers, and Bible students. Used with permission.
Publication date: March 23, 2011
Have something to say about this article? Leave your comment via Facebook below!
advertise with us
Example: "Gen 1:1" "John 3" "Moses" "trust"
Advanced Search
Listen to Your Favorite Pastors