Grace, Porn and the Church
Mike Genung, Founder, Blazing Grace
Thursday, December 13, 2012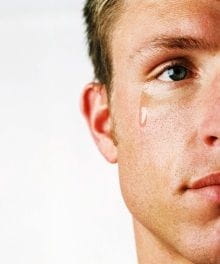 The enemy doesn't want you to grab the truth of how big the grace of God is; he knows it will change you from his marionette to a front line enemy. He wants to keep you blind to all the blessings and mercy that are at your fingertips.
How is this grace accessed? In most cases of my life it has been when I'm alone with the Lord, and have allowed Him to uncover the layers of sin or lies I've bought into that keep me from receiving His Holy Spirit-induced flow of grace. Pastors and friends can tell me about the grace of God, but if I want it I have to receive it in my heart.
Grace must be packaged with truth.
For the Law was given through Moses; grace and truth were realized through Jesus Christ (John 1:17).
Recently, Chuck Swindoll shared a story on his radio show that shocked me. Before I go on, realize that this is a pastor who wrote a book called The Grace Awakening on living in the grace of God.
Swindoll told a story of how a friend attended a church that focused mainly on the love of God. His friend told Swindoll that "those people would have loved me right into hell." He went on to say that this church didn't tell him he was a sinner, or of his desperate need for God.
I've heard American Christians say "you can do anything you want and God will forgive you." God forgives all our sins (Colossians 2:13), but there's a problem with "you can do anything you want."
For the flesh sets its desire against the Spirit, and the Spirit against the flesh; for these are in opposition to one another, so that you may not do the things that you please (Galatians 5:17).
Picture getting married and then telling your new wife, "Honey, I know you love me and will forgive me of anything. I'm going to have sex with just one other woman a week, with an occasional prostitute in the mix. There'll also be some porn to fill in the gaps. But we're good 'cuz you'll forgive me, right?"
That marriage would be over.
"You can do anything you want…" can't square with verses like:
Or do you not know that the unrighteous will not inherit the kingdom of God? Do not be deceived; neither fornicators, nor idolaters, nor adulterers, nor effeminate, nor homosexuals, nor thieves, nor the covetous, nor drunkards, nor revilers, nor swindlers, will inherit the kingdom of God. Such were some of you; but you were washed, but you were sanctified, but you were justified in the name of the Lord Jesus Christ and in the Spirit of our God (1 Corinthians 6:9-11).
We cannot have sin and God; we must choose which one we want. Telling people "God loves you" without telling them they're dealing with a holy God who hates sin and does not compromise with, condone, or tolerate it is dangerous. When we understand that we dare not play games with God, it produces a holy fear which the Bible calls "the beginning of wisdom" (Proverbs 9:10). The penalty of sin is so severe that "without the shedding of blood there is no forgiveness" (Hebrews 9:22). Our heart is a dark, wicked place; apart from the grace of God hell is our destiny. We desperately need the redemption of the cross.
Recently on Pastors / Leadership
Have something to say about this article? Leave your comment via Facebook below!
advertise with us
Example: "Gen 1:1" "John 3" "Moses" "trust"
Advanced Search
Listen to Your Favorite Pastors