Laura MacCorkle

Senior Editor, Fun Channel

2002

26 Sep

COMMENTS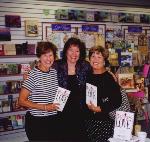 The creator of Focus on the Family's "Renewing the Heart" conferences, author/speaker Lisa Harper (pictured center), appeared recently at a Family Christian Store in Brentwood, Tenn. to sign copies of her latest book, Relentless Love – God's Faithfulness in the Face of Human Failure.
Relentless Love marks Lisa's second book for Howard Publishing, with the first being Every Woman's Hope.  "Relentless Love is about human failure and God's faithfulness," shares Harper. 
"It's about the divine mercy He extends in spite of our doubts.  Its message is meant to encourage everyone honest enough to admit they aren't perfect.  There is hope—because there is a Redeemer whose love for us isn't bound by our behavior.  Whose love for us isn't deterred or swayed by our imperfections.  Whose love for us is positively relentless."
Formerly the director of Women's Outreach at Focus on the Family, Lisa is now the director of Women's Ministries at Christ Presbyterian Church in Nashville, Tenn. and is currently pursuing a Masters of Divinity degree.