Not a Fan
Kyle Idleman, Author
Wednesday, June 01, 2011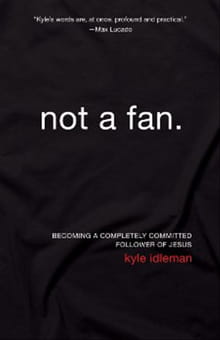 EDITOR'S NOTE: The following is an excerpt from Not a Fan by Kyle Idleman (Zondervan).
prologue
It's a Thursday afternoon and I am sitting in the church sanctuary. It's empty now, but Easter is only a few days away. More than thirty thousand people will likely come to the weekend services, and I have no idea what I'm going to say to them. I can feel the pressure mounting as I sit there hoping that a sermon will come to mind. I look around at the empty seats hoping some inspiration will come. Instead there's just more perspiration. I wipe the sweat off my brow and look down. This sermon needs to be good. There are some people who only come to church on Christmas and Easter (we call them "Creasters"). I want to make sure they all come back. What could I say to get their attention? How can I make my message more appealing? Is there something creative I could do that would be a big hit and get people talking?
Still nothing. There is a Bible in the chair in front of me. I grab it. I can't think of a Scripture to turn to. I've spent my life studying this book and I can't think of one passage that will "wow" the Creasters. I consider using it the way I did as a kid. Kind of like a Magic 8 Ball, you ask a question, open up the Bible and point on the page, and whatever it says answers your question.
Finally a thought crosses my mind: I wonder what Jesus taught whenever he had the big crowds. What I discovered would change meforever. Not just as a preacher, but as a follower of Christ. I found thatwhen Jesus had a large crowd, he would most often preach a messagethat was likely to cause them to leave.
In that empty sanctuary I read of one such occasion in John chapter 6. Jesus is addressing a crowd that has likely grown to more than five Prologue thousand. Jesushas never been more popular. Word has spread about his miraculous healings and his inspirational teaching. This crowd of thousands has come to cheer him on.
After a full day of teaching, Jesus knows the people are getting hungry, and so he turns to his disciples and asks what all these people will do for food. One of the disciples, Philip, tells Jesus that even with eight months' wages, it wouldn't be enough money to buy bread for everyone to have a bite. From Philip's perspective, there really wasn't anything that could be done. But another disciple, Andrew, has been scanning the crowd and he tells Jesus of a boy who has fives loaves of bread and two small fish. Jesus takes the boy's sack lunch and with it he feeds the entire crowd. In fact, the Bible tells us that even after everyone had their fill, there was still plenty of food left over.
After dinner the crowd decides to camp out for the night so they can be with Jesus the next day. These are some big-time fans of Jesus. The next morning when the crowd wakes up and they're hungry again, they look around for Jesus, aka their meal ticket, but he's nowhere to be found. These fans are hoping for an encore performance. Eventually they realize that Jesus and his disciples have ser to the other side of the lake. By the time they catch up to Jesus they're starving. They've missed their chance to order breakfast and they are ready to find out what's on the lunch menu. But Jesus has decided to shut down the "all you can eat" buffet. He's not handing out any more free samples. In verse 26 Jesus says to the crowd:
Recently on First Chapters
Have something to say about this article? Leave your comment via Facebook below!
advertise with us
Example: "Gen 1:1" "John 3" "Moses" "trust"
Advanced Search
Listen to Your Favorite Pastors