The Discipline of Spiritual Discernment
Tim Challies, Author
Thursday, March 27, 2008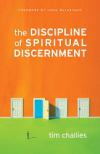 The recipients of the letter to the Hebrews were regressing rather than progressing in their faith. There had been a time when they were able to hear what the author was so earnest to share with them now. Sadly, they are no longer at such a place. Their lack of discernment has caused them to lose ground. They are moving backwards rather than forwards. They are backslidden.
Solid food is a long way off from these people, for "solid food is for the mature, for those who have their powers of discernment trained by constant practice to distinguish good from evil" (Heb. 5:14). Until these people learn to practice discernment and to do so constantly, they will not be able to handle solid food. Until they practice discernment and learn to distinguish between what is good and what is evil, they will continue backsliding. Thus a lack of discernment is not only a mark of spiritual immaturity, but also a mark of those who are backsliding.
3) Lack of Discernment Is Proof of Spiritual Death
Those who have professed faith in Christ cannot backslide indefinitely. Sooner or later it will become clear that they are not believers at all and surely never were. The Bible does not tell us if the recipients of the letter to the Hebrews continued to fall away or if God graciously used this letter to draw them back to him. But Scripture tells us elsewhere what happens to those who harden their hearts against God, rejecting his good gifts. Romans 1:28-32 is a damning indictment of the unregenerate human heart. It shows with terrifying clarity the evil of which humans are capable. These verses make plain the extent of the sinfulness of those who have rejected the true God in favor of false gods of their own making:
Since they did not see fit to acknowledge God, God gave them up to a debased mind to do what ought not to be done. They were filled with all manner of unrighteousness, evil, covetousness, malice. They are full of envy, murder, strife, deceit, maliciousness. They are gossips, slanderers, haters of God, insolent, haughty, boastful, inventors of evil, disobedient to parents, foolish, faithless, heartless, ruthless. Though they know God's decree that those who practice such things deserve to die, they not only do them but give approval to those who practice them.
These verses ought to strike terror in the heart of all who forsake God and ought to cause us all to pause and acknowledge the depth of the evil that inhabits the hearts of men. As men turn from God, he gives them up to do those things their hearts, filled with evil, cry out to d envy, murder, hatred, gossip, boasting, and all manner of evil. And in the midst of this list is one word that seems almost unexpected.4 God gives people up to foolishness. Most Bible translations render this word as "without understanding." One, the New King James Version, translates it as "undiscerning." Regardless of how it is rendered in English, this word points to a type of moral foolishness that should not be present in the life of one who considers himself a Christian. It points not only to the sinfulness of a lack of discernment, but to the inevitable conclusion that a lack of discernment, utter foolishness, is a mark of one who is spiritually dead and bankrupt.
A complete lack of discernment or lack of concern for the discipline of discernment is a mark of spiritual death. It is categorized with sins that somehow seem far more serious. That a lack of discernment appears in this list seems shocking, but it shows just how much God values discernment. An absolute lack of discernment and a lack of concern for discernment is sure proof of spiritual death.
We see also in 1 Corinthians 2:14 the dire consequences of ignoring discernment: "The natural person does not accept the things of the Spirit of God, for they are folly to him, and he is not able to understand them because they are spiritually discerned." Those who are unsaved, who do not have the Spirit of God within them, are unable to be discerning. The ways of God and the truths of God are utter foolishness to such people.
Have something to say about this article? Leave your comment via Facebook below!
advertise with us
Example: "Gen 1:1" "John 3" "Moses" "trust"
Advanced Search
Listen to Your Favorite Pastors