Wild Goose Chase
Mark Batterson, Author
Tuesday, August 19, 2008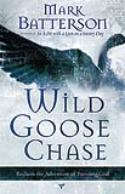 Over the past decade, I have had the privilege of serving as lead pastor of National Community Church in Washington D.C. As with every church, our demography and geography are unique. Seventy percent of NCCers are single twentysomethings navigating the quarterlife crisis. And most of them live or work on Capitol Hill. So the observation I'm about to share is undoubtedly shaped by the life stage of our congregation and the psyche of our city. But I also think human nature is human nature. And here is what I've observed: many, if not most, Christians are bored with their faith.
We know our sins are forgiven and forgotten. We know we will spend eternity with God when we cross the boundary of the space-time continuum. And we are trying our best to live our lives within the guardrails of God's good, pleasing, and perfect will. But still we have a gnawing feeling that something is missing.
I think the rich young ruler is representative of a generation that longs to come out of the cage and live dangerously for the cause of Christ. But too many among us end up settling for spiritual mediocrity instead of striving for spiritual maturity. Jesus speaks to that deep-seated longing for adventure by challenging us to come out of the cage. But coming out of the cage means giving up the very thing in which we find our security and identity outside of Christ.
In the case of the rich young ruler, his cage was financial security. Jesus said to him, "If you want to be perfect, go, sell your possessions and give to the poor, and you will have treasure in heaven. Then come, follow me."4
A part of us feels bad for the rich young ruler, right? How could Jesus demand so much? He asked him to give up everything he had! But we fail to appreciate the offer Jesus put on the table.
I live in the internship capital of the world. Every summer tens of thousands of young adults make the pilgrimage to DC to try and land the right internship with the right person because they know it can open the right door. It's amazing how many members of Congress were once congressional pages and how many Supreme Court justices were once Supreme Court clerks.
I don't care how much this rich young ruler had to give up—Jesus offered him so much more. This was the opportunity of a lifetime: an internship with none other than the Son of God. Come on, that's got to look good on your résumé! You can't put a price tag on that kind of experience. But the rich young ruler turned it down. He opted for the cage. And he made the mistake so many of us make: he chose an accessorized life over a life of adventure, over a life of chasing the Wild Goose.
Now juxtapose the rich young ruler with the twelve undomesticated disciples who accepted the unpaid internship. They heard the parables with their own two ears. They drank the water Jesus turned into wine. They filleted the miraculous catch of fish. And they were there when Jesus turned the temple upside down, walked on water, and ascended into heaven.
In a day when the average person never traveled outside a thirty-five-mile radius of his home, Jesus sent His disciples to the four corners of the ancient world. These ordinary fishermen, who otherwise would have lived and died within sight of the Sea of Galilee, were sent to the ends of the earth as they knew it. What a Wild Goose chase! According to the third-century historian Eusebius, Peter sailed to Italy, John ended up in Asia, James the son of Zebedee traveled as far as Spain, and even doubting Thomas chased the Wild Goose all the way to India.
Just like the rich young ruler, we have a choice to make. The same offer is extended. We can stay in our cage, end up with everything, and realize it amounts to nothing. Or we can come out of our cage and chase the Wild Goose.
SIX CAGES
In the prequel to this book, In a Pit with a Lion on a Snowy Day, I retell the story of an ancient warrior named Benaiah to show how God wants us to chase the five-hundred-pound opportunities that come across our path. And I cite the aphorism "no guts, no glory." When we lack the guts to step out in faith, we rob God of the glory that rightfully belongs to Him.5 In Wild Goose Chase, I want to take it a step further and show you how all of life becomes a grand adventure when we chase the trackless, matchless Goose of heaven. We'll retrace the steps of six Wild Goose chasers who come right out of the pages of Scripture. And my hope is that their footprints will guide us as we chase the Wild Goose. But before the chase begins, I do want to offer one simple reminder. This book is about more than you and me experiencing spiritual adventure. In fact, this book is not about you at all. It's a book about the Author and Perfecter of our faith,6 who wants to write His-story through your life. And if you read through Scripture, you'll discover that His favorite genre is action-adventure.
Have something to say about this article? Leave your comment via Facebook below!
advertise with us
Example: "Gen 1:1" "John 3" "Moses" "trust"
Advanced Search
Listen to Your Favorite Pastors