Because of Winn-Dixie Charms with Southern Goodwill
Christian Hamaker
Friday, August 19, 2005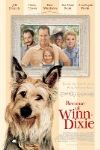 DVD Release Date: August 9, 2005
Rating: PG (thematic elements, and brief mild language)
Genre: Family
Run Time: Approx. 106 min.
Director: Wayne Wang
Actors: AnnaSophia Robb, Jeff Daniels, Dave Matthews, Eva Marie Saint, Cicely Tyson
DVD Extras: Commentary by actor Jeff Daniels and Producer Trevor Albert; scene-specific commentary by actor AnnaSophia Robb; behind-the-scenes with Winn Dixie; music soundtrack promo; gag reel; "Diamond in the Ruff" – all about the dog, Winn-Dixie.
Tired of the dogs of summer? You know the ones I mean – "The Dukes of Hazzard," "Stealth," and those other big-budget busts currently filling up screens at the local multiplex.
If so, try a different sort of dog, the canine star of "Because of Winn-Dixie" – a home-video release with enough warmth and Southern goodwill to balance out the frigid temperatures and harsh realities of this summer's surprise family hit at theaters, "March of the Penguins."
Based on the Kate DiCamillo book of the same of name, "Because of Winn Dixie" tells the story of Opal (AnnaSophia Robb) and her preacher dad (Jeff Daniels), two lonely characters who gradually discover that the small town of Naomi, Fla., is full of others who are broken and hurting, too. Each of the movie's main characters is isolated in some way: Opal misses her mother and can't connect with the neighborhood children; Opal's father is adjusting to a new flock at the Open Arms Baptist Church, and to life under the eye of his new landlord, Mr. Alfred (B.J. Hopper); Otis (Dave Matthews), the pet-shop worker, hires Opal but hides a troubled past; Miss Franny (Eva Marie Saint), a lonely librarian, relishes the company of her young patrons; Gloria Dump (Cicely Tyson), is a recovering alcoholic with poor eyesight, but has great insight; and Winn-Dixie, the dog whom Opal befriends, helps unite the townspeople and heal their emotional wounds.
The potentially sappy scenario skirts the boundaries of maudlin melodrama, but screenwriter Joan Singleton and director Wayne Wang overcome their stutter-step start before hitting their stride in the second act, ultimately delivering a sweet film about the power of community and the ties that bind.
But the road to redemption is a bit rocky for the filmmakers as well as the characters. Promising scenes of Opal praying for new friends give way to scenes with forced humor and pratfalls that may elicit giggles from the grade-school set, but few others. The preacher is little more than the film equivalent of the pastor portrayed on TV's "7th Heaven," interested more in generic platitudes than in the meat of the gospel – all the better to avoid any possible offense among his congregants or the film's viewers.
It's left to Eva Marie Saint's portrayal of Miss Franny to provide the first – but not last – of the well-rounded characters viewers encounter in Naomi. The film's leisurely pace eventually reveals shadings and nuances that illustrate certain human truths about second chances, and how to deal with past regrets. Helping the film go down easy is a lovely soundtrack featuring Norah Jones, Shawn Colvin, Emmylou Harris, and, in character, Dave Matthews.
This Walden Media production builds on the studio's earlier film adaptation of "Holes" – an intriguing family favorite also based on a popular book for young adults, but which brings a more unusual, quirky sensibility to the genre than the formulaic but still winning "Winn-Dixie." Those looking for a good double feature are advised to pick up both titles on DVD (distributed by 20th Century Fox Home Entertainment) and discover their own preferences.
AUDIENCE: Older children and up
OBJECTIONABLE CONTENT:
Drugs/Alcohol: Frank discussion of one character's alcoholic past, and a reference to the role of alcohol in the choice Opal's mom makes to leave the family
Language/Profanity: A talking bird mimics his human companion, repeating such lines as "Shut up!" and "Idiot!"; Otis says, "I'll be damned"; Preacher refers to man falling "on his butt"; Opal calls two boys taunting her "booger eaters"; a woman says "war is hell," and a shocked young girl interjects, "'Hell' is a cuss word!" "'War' is, too," the woman responds. On a more positive note, two characters are shown praying, and one explicitly addresses her prayer to the "Dear Lord and Heavenly Father," and asks her requests "in Your name."
Sex/Nudity: None, but a buffoonish police officer has his pants stripped off at one point, leaving him in his underwear.
Violence: Animal-control officers capture Winn-Dixie, but the dog is quickly released
Family Issues: Opal's mother has abandoned the family for reasons that aren't made clear until late in the film


Recently on Movie Features
Have something to say about this article? Leave your comment via Facebook below!
advertise with us
Example: "Gen 1:1" "John 3" "Moses" "trust"
Advanced Search
Listen to Your Favorite Pastors