Who's Afraid of The Golden Compass?
Paul Edwards, "The Paul Edwards Program," WLQV Detroit
Friday, November 30, 2007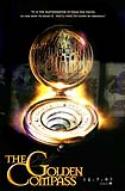 Pullman chooses to identify as true what in reality is a false religion in the garb of Christianity—while ignoring the work of the true Church in the world. Redefining good as evil is a plot element Pullman uses throughout the trilogy, and not just in relation to the Church. The books are a prime example of what Isaiah warned against when he said, "Woe to them who call evil good and good evil, who put darkness for light and light for darkness" (Isaiah 5:20).
Our response should not be to merely paint Pullman as a liar and deceiver, denying that the Church he depicts exists. On the contrary, we should agree, at least in part, with Pullman that such a Church has existed—and still exists—but that it is not the genuine Church, as Pullman leads his readers to believe.
If The Golden Compass is a lie passing itself off as truth, is the appropriate course for us to run from it, to bury our heads in the cultural sand, pretending that, if ignored, challenges to the faith aren't real? Would you deem it a valid response if your college freshman merely ran from the challenges to her faith she can expect from her atheistic philosophy professor? If not, why would you encourage your children to run from the challenges to their faith implicit in Pullman's trilogy?
It seems to me the proper response from those who are convinced of the truth ought to be to engage error, not run from it. Rather than fearing our children might read a book or see a film that challenges their faith, such a scenario presents us with an opportunity to teach them to earnestly contend for the faith once delivered to the saints.
We should be willing to read the books and see the movie with our children (of the appropriate age and level of maturity), engaging the difficult issues raised by Pullman, and allowing the True Compass, the Word of God, to guide us into all truth—to bring to light the hidden things of darkness. If true followers of Jesus Christ boycott The Golden Compass we run the risk of validating Pullman's thesis that Christians suppress and control, rather than engage in open and honest debate in a vibrant, passionate and intelligent defense of the faith.
Why not counter Pullman by being a living demonstration of the Church he fails to portray in his trilogy rather than validating him by being exactly what he says we are?

Paul Edwards is the host of The Paul Edwards Program, a columnist and pastor. His program is heard daily on WLQV in Detroit and on godandculture.com. Contact him at paul@godandculture.com.
Recently on Movie Features
Have something to say about this article? Leave your comment via Facebook below!
advertise with us
Example: "Gen 1:1" "John 3" "Moses" "trust"
Advanced Search
Listen to Your Favorite Pastors